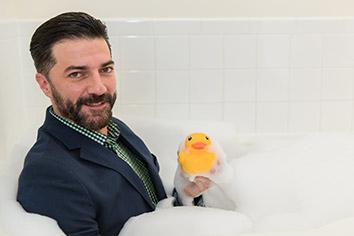 Yes, it's yellow and, yes, it floats in water. But it also has a Bluetooth speaker, a thermometer and the ability to interact with smartphones and tablets.
Call Edwin the Duck the smart rubber duckie.
Two Carmel-based entrepreneurs created Edwin, which they bill as the world's first interactive rubber duck. The prototype has already piqued the interest of Amazon, Bed Bath & Beyond and other retailers, the inventors said, and Edwin is slated to hit store shelves by spring 2015.
"What's the most iconic bath-time toy in the world? A rubber duck," said Don Inmon, president and co-founder of Pi Lab. "So we felt this was a vessel that would allow us to communicate with all different types of people all around the world by using something that everybody has today—a smart device."
Edwin is aimed at children up to age 9. It can stream music and play sounds associated with its digital storybooks.
With its thermometer, the toy can gauge the temperature of bathwater and even of a sick child, Inmon said. The duck can also play lullabies and serve as a night-light.
It doesn't squeak, but it does quack.
Edwin the toy can function by itself, Pi Lab CEO and co-founder Matt MacBeth said, and Edwin's app can function by itself. But when put together, "it can do something even better," he said.
There are other wireless speaker toys out there, including a line of stuffed animals by Virginia-based Avanti Toys Inc.
With respect to app-enhanced toys, there's Sphero, a camera-embedded robotic ball that boasts more than two dozen third-party apps.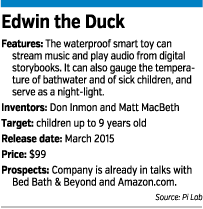 But Inmon said he has yet to encounter an interactive, waterproof rubber duck that can be a tool for parents with young children. And Edwin is not just a toy, but a series of stories, he said, as its app will be frequently updated with new adventures.
"Every one of our stories is going to be about Edwin learning something or overcoming a challenge," Inmon said. "And the stories will be reduced or expanded based upon the age of the child."
Inmon has more than 20 years' experience in audio product development at companies like Apple and Klipsch, an Indianapolis-based audio technology firm.
MacBeth, his business partner, helped develop Klipsch headphones and created one of the first Wi-Fi monitor cameras.
The idea for Edwin came from China, Inmon said. While visiting Hong Kong in July 2013, Inmon noticed vendors selling small, inexpensive rubber duck radios in commemoration of a public art piece in the form of a 54-foot inflatable duck that had visited the city's harbor earlier that year.
Inmon figured a rubber duck with enhanced features and an app could be a hit.
"My kids are the most important thing in the world to me," said Inmon, who has three children. "So I thought if parents could have an exciting connection with their children through this product, that's what we wanted to focus on."
Barry Kudrowitz, who heads the Product Design program at the University of Minnesota, said he likes the Edwin toy and it appears novel, but it could suffer from what he calls "feature creep."
"Sometimes designers don't know when to stop adding features," Kudrowitz said. "The biggest issue with products that have multiple disparate functions is that it introduces many opportunities for failures, especially in a toy product like this where it is going to be exposed to elements and forces."
Kickstarter woes
While Edwin has drawn the attention of retailers and news outlets, its Kickstarter campaign has been slow out of the gate.
The campaign launched Oct. 23 and raised $3,100 in the first 24 hours, according to Edwin the Duck's Facebook page. At that rate, it was on track to reach its goal of $85,000 by Nov. 20.
But as of Nov. 20, the campaign raised only about $10,300. If the campaign isn't fully funded by Dec. 2, the pledged money will be returned.
The Kickstarter money is intended primarily for enhancing Edwin's app, and without it Edwin's launch could be delayed.
Inmon said Edwin isn't entirely dependent on the Kickstarter funds and it does have an angel investor.

MacBeth
"With the funding that we have today, we could make a fantastic app," he said. "Are there some other things I'd like to put in there? Absolutely.
"That's been our thing. We say we want a version-3 product on Day One."
Edwin will be manufactured in China, Inmon said. It'll be priced at $99, which is less than the $130 Sphero but more than some of the other mixed-reality toys that aim to merge the physical and digital worlds.
In addition to product sales, Edwin should generate revenue through in-app purchases, principally new stories likely priced around $1.99.
Inmon said he doesn't want Edwin to be just an app-enhanced toy.
"Our vision for this is product, TV show, movie. We're not thinking small," Inmon said. "But where it's going to get traction is [in] the claims that we make. So we're taking a lot of care in how our app is developed."
And maybe one day he'll make a giant duck for the pool, he said.•
Please enable JavaScript to view this content.