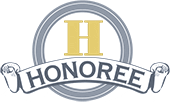 Derica Rice
Executive Vice President of Global Services and Chief Financial Officer, Eli Lilly and Co.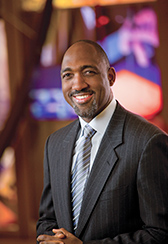 (Photo courtesy of Eli Lilly and Co.)
Derica Rice, chief financial officer of Eli Lilly and Co., said serendipity led him into the financial world.
The Alabama native figured that, if he went into engineering, he could at least feed himself if he didn't make it into law school. When completing his thesis, though, he realized he didn't want to be an engineer.
"I had worked at General Motors," he said, "and I saw that side. I'd either be working in research and development or manufacturing. Neither one appealed to me."
Law? He was thinking about it. But then his roommate told him about "this thing called an MBA." Without a business undergraduate degree, he didn't think he had a shot. But he applied for both and was accepted—and the MBA offered more money than law school.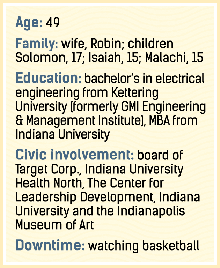 "I wish it was more well-thought-out and scientific," he said. "But given that I was dead broke, I took the money."
After receiving his MBA from Indiana University, Rice joined Eli Lilly as an international treasury associate. It wasn't until he came to Indianapolis for his first interview that he realized Lilly was producing insulin. With his mother a Type 2 diabetic, a clear vial of insulin was a staple in his refrigerator.
"But I never actually looked at the name on the vial," he said. After the interview, he called his mother and asked her to read that name: Lilly.
"At that point," he said, "I began to grasp what Lilly does—not just the business model, but how it impacts people's lives."
A series of Lilly jobs followed, including sales representative, global planning manager for pharmaceuticals, and chief financial officer for Lilly Canada. He crossed the ocean as executive director and chief financial officer for European operations, became general manager of Lilly United Kingdom and Republic of Ireland, then rose to CFO of the overall company in 2006.
The variety of experience, he said, was "monumental in expanding my own personal growth and development," sharpening his agility in dealing with different business circumstances, including trying to keep the bottom line healthy while losing revenue from the expiration of exclusivity on key drugs in the Lilly portfolio.
He believes flexibility is key in trying to navigate the volatile health care industry.
"The U.S. today accounts for the vast majority of scientific innovation," he said. "That's people going after unmet and unaddressed needs. Sustaining that will be critical not only to our industry, but to the U.S. economy going forward."
And that's not just a theory for Rice, but a practice. In 2013, the company spent 23.9 percent of its sales on R&D—the highest ratio of all major pharmaceutical companies.
In 2009, Rice was selected as one of the Most Powerful Executives in Corporate America by Black Enterprise magazine. He was also picked as one of Diversity MBA magazine's "Top 100 Under 50 Executives."
Does that mean he has to fight off corporate headhunters?
"I've had a fabulous career with Lilly," he said. "It's not who calls, it's who you answer."
His proudest achievement?
"I'm still here," he said. "Honestly, for almost 25 years I've been able to contribute, and Lilly sees value in having me as a part of the team. Every year, I hope I measure up."
To read other CFO of the Year profiles, please click here.
Please enable JavaScript to view this content.