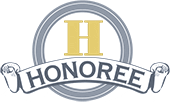 John Visconti
Senior Vice President,
Chief Financial Officer,
Project Lead The Way Inc.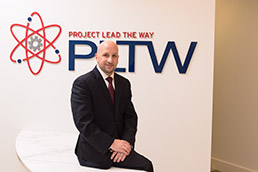 (IBJ photo/Eric Learned)
After a career of dealing with businesses ranging from swimming pools to promotional goods, John Visconti now influences schools across the country. Project Lead the Way, where he is senior vice president and chief financial officer, is one of the country's leading providers of curricular programs in science, technology, engineering and math.

Founded in the late 1990s with the intent of being in seven or eight schools in New York, it now provides 6,500 programs in all 50 states. For the past two years, PLTW was named one of the best places to work in Indiana by the state chamber of commerce.

When he first got the call from a headhunter, Visconti was a bit skeptical.

"I had lived near it and never heard of Project Lead the Way," he said.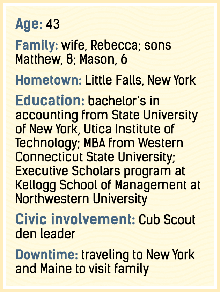 But then he explored what the organization was doing, the difference it was making in students' lives. As an adjunct instructor at Empire State College, he noted, "I was impacting 20 students a semester. Here, I could impact 300,000 students on a daily basis. It was a no-brainer."

Visconti joined Project Lead the Way in 2011 after stints with Noteworthy Industries Inc. (a promotional goods company) and Latham Pool Products Inc. (the swimming pools)—both also in New York.

At PLTW, he headed a revamping of the company's business model, which led to a one-year revenue increase of 93 percent, taking it from a $4.1 million operating deficit to a $900,000 surplus. More recently, he managed to keep PLTW's benefit costs in check, finding new plan options that kept premiums at or below previous-year levels while increasing company contributions to employees' 403(b) retirement plans and adding a tuition reimbursement program.

Six years of study of the PLTW program by a Texas State University researcher indicated that students were better prepared for and attended higher education institutions at a higher rate. They also scored higher on math assessments, and even those who did not enroll in college achieved a 13.6-percent higher median wage.

But such achievements can't happen if the business falters.

"For me," said Visconti, "it's important that we are a sustainable organization just like any business. You need to make money to fund your operation. And we've had great success in financials."

He pointed to the doubling of operating revenue and net assets, tripling of profit before operating costs, and an almost quadrupling of staff—all while reducing the cost of the program to schools.

One of his most effective moves, he said, was relocating the company to Indianapolis.

"Our CEO, who retired in 2011, was from Indiana," Visconti said. But that wasn't the primary factor. "Indiana was one of our largest states—it had the most schools that implemented the project. Indiana embraced it."

After PLTW was approached by Indiana economic development officials about moving, "we did great analysis on the pros and cons and it just made perfect sense." The move, Visconti calculated, would save about $1.7 million over 10 years. "But we're going to achieve that $1.7 million far before 10 years is up."

And with a new elementary school program, Visconti said, "very soon, we're going to be impacting a million students daily."
To read other CFO of the Year profiles, please click here.