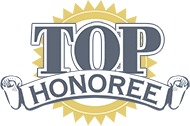 MaryFrances McCourt
Senior Vice President,
CFO and Treasurer,
Indiana University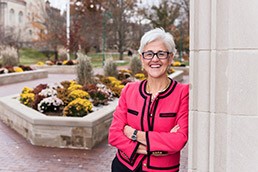 (IBJ photo/Eric Learned)
"My whole theory and motto is that you put your best foot forward every day," said MaryFrances McCourt, chief financial officer for Indiana University. "You don't worry about what's going on around you. Just come in and give it 100 percent. That's how I was brought up."
That drive could be one of the factors that led a 10-member search committee to find her right in IU's own back yard: When it came time in 2012 to hire for the CFO position, McCourt was working at the university, starting as treasurer in 2005.
"It was a fluke," she said of her initial connection to IU. Working in the tech industry—as assistant treasurer for Agilysys Inc., a multibillion-dollar distributor and reseller of technology solutions headquartered in Cleveland—and with one child in college and another about to start, she decided to "take the blinders off" and do some Internet searching. There, she stumbled across an ad for the IU position.
At first, she felt out of place in Bloomington.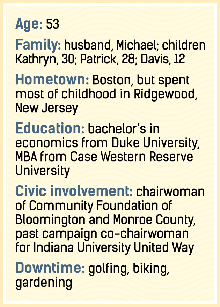 "Everybody was an IU grad," she said. But then she realized the value she brought. "I think it was a time when the trustees were looking for someone with experience outside of higher ed."
Because of her background in strategic planning and analysis, McCourt found herself involved in areas beyond the usual treasurer job description.
When the controller left, half of the work was added to her plate. Soon, in addition to investments, capital finance and treasury operations, she was handling insurance and loss control, student loan administration, auxiliary accounting—including parking and housing—and the bursar's office.
More responsibility came in 2013 when she rose to VP and CFO. Senior was added to the title in 2014.
McCourt is credited with helping find $214 million in savings over the past four years, thanks to volume buying and the application of procurement best practices.
She oversaw the financial and operational aspects of two early-retirement programs, consolidated departments, expanded IU's investment committee, led the creation of a tiered cash and investment portfolio structure to enhance returns and improve the risk profile, and made it possible for the minimum wage for IU employees to rise from $7.25 to $8.25 an hour.
In its January 2014 report, Moody's Investors Service gave IU a AAA rating, listing among the university's strengths a 60-percent growth in its financial resources over four years, strong reserves in relation to operations, conservative financial management leading to consistent performance, manageable debt levels, and strong debt service coverage.
"We had every duck in a row," McCourt said. "We didn't really have any blips at all."
Of course, there have been challenges, including a major shift in state appropriations.
"If you look at tuition and expenses, ours per student have gone up less than inflation," she observed. "If you go back to the late '70s, early '80s, state appropriations covered 75 percent and tuition 25 percent. That has flipped. Funding per full-time student is way down and, at the same time, students are demanding more. How do we give them the tools they want while keeping tuition in check?"
McCourt said that, beyond helping the university manage its expenses, she sees her job as helping students manage theirs. While treasurer, she started a financial literacy initiative that in the first year helped bring down student debt 11 percent.
"Students are borrowing too much over tuition. We're trying to educate them on what it means to take on debt, showing them what it will be in monthly payments. We really need to teach kids in grade school and high school. I don't think a lot of parents understand it."
And while it might seem out of the ordinary for a CFO to spearhead a wellness initiative, McCourt has taken on that as well.
"I'm trying to look for ways to free up resources, to invest in initiatives that help us grow. Everything doesn't have to cost a lot of money. We can bring people together who are experts in everything from diabetes prevention and stress to heart attacks. We have two schools of public health. Hello! We're your lab."
She also helped launch the IU Financial Summit, corraling key financial people from all of IU's schools along with representatives from housing, parking and facilities.
"As many as I could bring together," she said.
She asked them to offer their key assumptions about revenue and growth over the next five years, calculated the mean of their assumptions, and created a model to present a unified look at "where we are and where we are projected to be."
Then she asked, "With five years to move the needle, what do we want to do?" She said the "fierce" conversation that ensued led to major initiatives on alternative revenue streams and operating efficiency—all with more buy-in than would otherwise likely have been achieved.
To read other CFO of the Year profiles, please click here.
Please enable JavaScript to view this content.