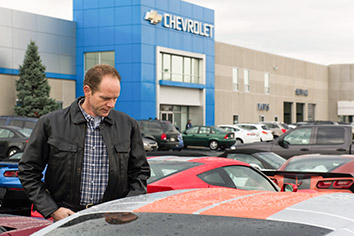 When Terry Lee Hyundai opens in Noblesville next spring, it will become the 10th new-car dealership operating on a six-mile stretch of State Road 37 in Hamilton County—and development isn't done.
Ed Martin Auto Group plans to relocate its Toyota store from Anderson to land fronting the highway north of 141st Street, and several sources said a dealership will be part of an as-yet-unannounced project at the heavily traveled 146th Street intersection.
When construction in the pipeline is complete, every major manufacturer will have planted its flag from Fishers to Noblesville.
"It's a testament to the growth of the area," said Marty Murphy, executive vice president of the Automobile Dealers Association of Indiana. "It's no different than new grocery stores: They go where the people are. The same thing is happening here."
And Hamilton County's residential explosion has merited an extra market or two. The county population more than doubled from 1990 to 2013, according to census figures, and is projected to do so again by 2050.
The growth spurred commercial development along State Road 37, a major north-south thoroughfare akin to Carmel's Keystone Parkway or U.S. 31—albeit with less-restrictive zoning rules.

Don Hinds Ford in Fishers was among the first dealerships to stake a claim on the new territory, and others followed suit.
"They like to be around one another," said Murphy, the trade group executive. "It becomes a destination, generates more traffic. … If we can get you to stop and look, there's a chance you'll buy."
The most recent addition to the fleet of State Road 37 dealerships: 35-year-old Honda of Fishers, a family-owned franchise (formerly known as Honda West) that moved from its longtime 38th Street location last year.
General Manager Karen Melzer said her father preferred a site at 146th Street and Cumberland Road, but Honda Motor Co. insisted that the sales-and-service facility be visible from the highway.
"Your biggest billboard is your building," said Internet Manager Bryan Sirbu, and drive-by traffic is Honda of Fishers' top source of business.
The 49,000-square-foot dealership is accessible via a new stoplight it helped pay to install at 135th Street—part of an area Butler Automotive Group set out in 2010 to develop into a $19 million auto mall.

Peck
Indianapolis-based Butler Automotive planned for the project to include as many as five dealerships. Until last month, it operated two: Butler Nissan and Butler Kia. Butler sold the Nissan franchise to Ed Martin Auto Group in October.
Butler Automotive chief Rob Butler did not return phone calls from IBJ, but Fishers officials cited four projects in the auto-mall area that produced the expected investment: Butler's $6 million Nissan dealership and $4 million Kia outlet, the $7.5 million Honda store and a $1.5 million independently owned Indy Collision Center.
Fishers helped pay for "critical infrastructure improvements" in the area, Town Manager Scott Fadness told IBJ, and paved the way for additional growth.
"These improvements helped spur development through the corridor," he said.
A Noblesville institution since it was founded as buggy and wagon maker W. Hare & Son in 1847, Hare Chevrolet was a pioneer when it moved its successful General Motors dealership to State Road 37 in 1999.
When development started creeping north along the highway, "the writing was on the wall," said sixth-generation co-owner Monica Peck. Rather than remain on two-lane Allisonville Road, the business would follow traffic to the four-lane thoroughfare.
"It's a high-visibility spot, for sure," she said.
Fifteen years later, about 40,000 vehicles travel State Road 37 daily, and Hare is riding a 10-year wave as the No. 1 GM dealer in Indiana.

Murphy
Hare just started corporate-mandated showroom renovations—all the better to reinforce the Chevrolet brand—and recently acquired an Isuzu truck dealership it plans to operate from a separate site along with its corporate-sales division.
Location is "definitely a factor" in Hare's success, she said, "but it's not the only one.
"You still have to take care of customers while they're here," she added. "Referrals are just as important—if not more important—than drive-bys. … Reputation is everything."
Peck, who owns the dealership with sister Courtney Cole, said Hare has sold vehicles to four generations of the same family.
Hare's customer surveys suggest new clients find the dealership most often because of its location or its love-it-or-hate-it "Sisters of Savings" advertising campaign, but Peck said many also cite its history and involvement in the community.
Terry Lee bought 50 acres at State Road 37 and State Road 32/38 three years ago, and construction is under way on a 41,000-square-foot Hyundai dealership that will anchor the eight-lot Terry Lee Crossing development.
Lee said he was attracted to the site because of its distance from the nearest cluster of dealerships along 96th Street near Keystone: almost exactly the 10 miles required as a buffer zone between competitors. He landed the Hyundai franchise later.

Lee
The population growth in the area was a major draw, along with the property's proximity to other car lots.
"In my opinion, the more competitors, the better for the customer," said Lee, who built a Honda dealership in Avon during the depths of the recession. "It's more convenient, and it enables them to have other choices close to home. Not everyone wants a Hyundai."
And not everyone wants more competition. Ed Martin Auto Group's plans to relocate its Toyota store to State Road 37 have faced opposition from other Indianapolis-area Toyota dealers who say the move would oversaturate the market.
A Marion County court in October upheld an Indiana Secretary of State's Auto Dealer Service Division decision allowing the location change, and Ed Martin President Mark Harrison told IBJ the company will resume the project shortly.
"Everyone else is already there," he said.
Including plenty of new-car buyers.
Residents within a five-mile radius of State Road 37 bought more than 10,000 vehicles during the first 10 months of 2014, according to the Dominion Cross-Sell Report. Only about a third came from the nine dealerships located there.•
Please enable JavaScript to view this content.