An inspiring story of three women who built Hoosier Momma LLC into a hot business has taken an ugly turn, with the Brownsburg company launching a legal assault against the founder who dreamed up its signature Bloody Mary mix.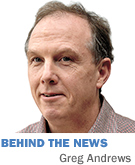 A lawsuit filed late last month in federal court in Indianapolis accuses Erin Edds of breach of fiduciary duty, interfering with business relationships, computer fraud and misappropriating trade secrets.

Fellow founders Kimberly Cranfill and Catherine Hill charge that Edds acted on her own and without authority in numerous ways that have damaged the business.

Nonsense, Edds' attorneys assert in a letter they wrote to Hoosier Momma in May, after it refused her request for financial records and requested that she "cease all activities on behalf of the company." Edds sued the company in Hendricks County in October, alleging Hoosier Momma has no legal basis for keeping financials from her.

"Ms. Edds maintains that she has consistently and conscientiously executed her obligations as a member of the company in good faith, in accordance with the operating agreement," Edds' attorneys wrote.

The spat seems sure to escalate.

"I can tell you that Ms. Edds will be pursuing additional legal action against other members of Hoosier Momma," B.J. Brinkerhoff, a Katz & Korin attorney representing Edds, told IBJ.

He wouldn't comment in detail, but said: "It's a situation we see a lot where an entrepreneur starts a business that has a lot of promise and then brings in others to help grow the venture.

"Unfortunately, there are times where disagreements on management of that company and the future of that company arise, and it's unfortunate it has developed" with Hoosier Momma, he said.


Edds
Hoosier Momma's lawsuit says Edds was the largest shareholder, with 34-percent ownership, from the company's founding in August 2010 until late 2011, when she sold 10 percent to Cranfill and Hill, who each previously held 33 percent.

Tensions escalated this year. In late summer, the suit says, Edds changed Hoosier Momma's social media passwords, locking out her partners, and she has "refused to relinquish control" since.

Last month, the suit alleges, Edds accessed Cranfill's password-protected email account, and then, pretending to be Cranfill, sent a message to a food-packing company in an attempt to obtain confidential information about Hoosier Momma.

In an email, Deborah Pollack-Milgate, a Barnes & Thornburg attorney for Hoosier Momma, said of the suit: "This was a tough, but necessary step toward putting Hoosier Momma's focus back on running a successful Indiana business, as the company and its customers and fans deserve."

It's not clear whether the falling-out has affected Hoosier Momma's breakneck expansion. The company's original and spicy Bloody Mary mixes continue to enjoy wide distribution, with bottles available in more than 600 restaurants, stores and hotels in nine states

The venture could hardly have started more modestly. In January 2010, Edds, who was running the local foods purveyor Country Mouse City Mouse, received a call from an event planner looking for Indiana products to include in Super Bowl-themed gift baskets. (The Colts were preparing to play in Super Bowl XLIV at the time.)

Edds decided to use Indiana tomatoes to make a vegan, gluten-free mixer. "Tomatoes are huge, and everybody does salsa," Edds told IBJ in 2011. "Everybody does hot sauce. So what is somebody actually going to use in a hospitality basket in their suite at the Super Bowl? Bloody Mary mix. It's the morning of [the game]. It's perfect."

The mix quickly became a cult favorite, and by mid-2010 Edds had teamed with Cranfill and Hill, who provided capital and business experience. Distribution deals soon followed, and the mix now is available in such chains as Sam's Club, Kroger and Meijer.

In the suit, Cranfill and Hill complain that on social media this summer Edds claimed to be the sole Hoosier Momma founder, shortchanging their roles.

Other allegations involve potentially more damaging actions, including that Edds:

• Sold Hoosier Momma products in June and July 2012 and kept proceeds for herself.

• Had "inappropriate" communications with one of Hoosier Momma's distributors, Glazer's Distributors of Indiana, "which threatened to cease selling Hoosier Momma products as a result."

• Tried to sell her interest in Hoosier Momma to third parties without the consent from her partners required under the company's operating agreement.

The lawsuit asks the court to order Edds to return $52,500 the company had provided for personal expenses. It also seeks other financial damages as well as injunctions blocking further improper conduct.•