One of the city's best-known corporate meeting and convention planners, Meeting Services Unlimited Inc., is launching a division focused on smaller, high-end private parties.
Meeting Services Unlimited CEO Debbie Locklear launched Your Perfect Party to serve hosts with a household income of $75,000-plus. The company sells themed packages including everything from invitations and linen to ice buckets and cocktail shakers. Clients keep all non-disposable items.

Locklear
A package—which includes decor for the entryway, buffet and bar areas, and bathrooms for a party of 12—costs $4,000 to $5,000. The service includes shopping and to-do lists and email or text message reminders to keep party hosts on track. Catering is not included.
Plenty of local and national retailers sell themed party packages, but most use disposable products and cost less than $500.
Locklear might benefit from crossover of her corporate clients, said Crystal Grave, CEO of locally based Snappening Inc., an online event-planning database service.
While Your Perfect Party's packages are unique, Grave said, Locklear could still run into stiff competition.
"There are plenty of event planners in the Indianapolis market that offer comprehensive planning services for corporate, social and wedding events," she said. "It's a matter of whether or not hosts want to invest in the planning services … or do that work themselves."
Currently, Your Perfect Party's packages come in four city-centric themes: New Harbor, Maine; New York City; Maui; and Napa Valley. Locklear said additional themes will be added and some will be discontinued to make sure customers have unique parties. Already, Los Angeles and Seaside, Florida, are planned for 2015.
Locklear, who founded Meeting Services Unlimited in 1983, made a name for herself handling meetings and conventions for some of the nation's biggest companies and associations, including the massive annual Custom Electronic Design & Installation—or CEDIA—Show. Meeting Services Unlimited this year handled eight conventions and 32 corporate meetings.
Locklear came up with the idea for Your Perfect Party four years ago when she was tasked with planning a friend's 50th birthday party. "I wanted a nice, high-end party, but was really busy at the time, so I looked for a service to help, and I just couldn't find anything," she said.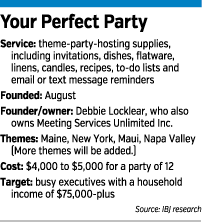 In talking with friends and business colleagues, Locklear discovered she was not alone. She said many people don't need the full-blown services of a party planner, but would like a one-stop shop for high-end supplies and some step-by-step directions to ease hosting hassles.
Indianapolis resident Barb Reiken, a district manager for a pharmaceutical company, often travels five days a week for work. She wanted to throw a birthday party for her husband, but had difficulty finding time to plan it. So she hired Your Perfect Party to help plan the party for 25.
"I was attracted because of the convenience and creativity," said Reiken, who bought the Napa package. "Their instructions for throwing the party were even easier than I thought they'd be, and the pieces are beautiful."
Meeting Services Unlimited's track record with corporate gatherings and conventions gave her staff "the organizational elements" to help people with private parties, Locklear said. "We use a lot of the same skills in throwing a party for tens of thousands that we do when we help throw a party for a dozen people," she said. "A lot of the creative skills transfer over nicely."
But Locklear admitted there have been challenges to launching the new division.
For one, Meeting Services Unlimited never had to compile and manage inventory the way Your Perfect Party does. Working as a retail firm was a new concept for her and her staff. "For each party, we're dealing with up to 15 vendors. We also had to learn the retail market and margins," she said.
Locklear signed a deal with Indianapolis-based Mayflower Hogan Transfer & Storage Corp. to allow Your Perfect Party to ship packages nationwide.
"This company is just a startup, so we don't think we've even begun to scratch the surface," Locklear said. "Because there is so little competition in this segment, we think the sky is the limit in terms of its potential."•
Please enable JavaScript to view this content.