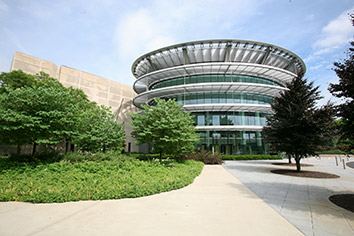 Officials at the Indianapolis Museum of Art are defending plans to charge an $18 admission fee as criticism rages among its supporters and on social media after the surprise announcement last week.
The IMA board chairman, Centerfield Capital founding partner Thomas Hiatt, said museum leaders anticipated many supporters would be unhappy about the change, after seven years of free admission, but they have no plans to back down.
The museum plans to start charging the fee, which includes parking and access to all the IMA gardens, in April. Visiting the museum's permanent collections is now free, though the IMA charges separately for parking and special exhibitions. Access to the Virginia B. Fairbanks Art & Nature Park, parts of the IMA grounds and the IMA gift shop will remain free.
"A great deal of analysis went into the discussion," Hiatt said. "We looked at a number of other institutions including local and in other cities. Even at $18, we are cheaper than the Children's Museum or zoo."
Anthony Basso, a visitor and museum fan, was one of dozens who expressed disappointment on IMA's Facebook page.
"My 8 year old daughter prefers the Art Museum even to Indianapolis' fantastic Children's Museum, and as parents we were thrilled to take her virtually every time she asked to go," he wrote. "While I understand the need for a financial sustainability, you have effectively transformed one of city's gems from an oasis of culture into a privileged club for those with disposable income."
Hiatt said the $18 price point was chosen because the admission price must be "sufficient to cause a visitor to the museum to consider a membership purchase." Memberships are $55 annually for an individual and $75 for a family. Children ages 6-17 are $10, and those 5 and under are free.
"We expect significant increase in membership and no fallout at all in visitors," he added.
A model for the change was The Huntington, a museum, library and gardens in Pasadena, California. Hiatt said that museum tripled its attendance and endowment after adding an admission fee. The Huntington charges $20 for an adult on weekdays and $23 on weekends.
The Indianapolis Zoo's experience with variable pricing—which pushes entry fees higher at peak times—also gave the IMA confidence it could withstand the change. The zoo's membership rolls almost have doubled, though the momentum owes in part to a new orangutan center.
The IMA will have free community hours, welcome school groups at no charge, and offer $1 admission for those who demonstrate financial need, in a nod to the importance of community access, Hiatt said.
More than 40 people weighed in on a Sunday blog post by IBJ Arts & Entertainment Editor Lou Harry, and all but a few were critical of the decision. Even defenders of an admission charge at IMA scoffed at the $18 figure.
Paris' famed Impressionist palace Musee d'Orsay charges the equivalent of less than $14, and the Louvre is about $15. New York City's Metropolitan Museum of Art has a "recommended" entry donation of $25, and the Art Institute of Chicago charges $18 for Chicago residents, $20 for Illinois residents and $23 for others. Chicago's Field Museum is $18.
The Getty Center in Los Angeles and the Cleveland Museum of Art are free.
"I think it is a shame that in a vibrant city like Indianapolis, we have an art museum that is moving backward instead of forward," said one commenter, Norma. "If you look at national trends, more and more art museums are going free (the Joslyn, Hammer, Broad, etc.). While I agree that it is important to be financially responsible, the numbers sadly don't add up."
The museum's move is a dramatic departure from the tenure of former IMA CEO Maxwell Anderson, a staunch supporter of free admission. The Dallas Museum of Art, which Anderson now heads, offers free admission to everyone and even free memberships in exchange for sharing personal data that helps drive the institution's fundraising efforts.
The ultimate goal, Anderson told Bloomberg Businessweek, is a museum that's more representative of the community.
"If everybody coming is old, rich, and white, pretty clearly we're failing as an institution," he said.
The IMA's CEO since 2013, Charles Venable, signaled early in his tenure that paid admission was likely. Venable has ruffled some feathers, but he's credited with bringing discipline to the museum's financial operations, chiefly by reducing an unsustainable 8-percent annual draw from the museum's endowment.
Hiatt said new revenue from the IMA's admission fee will allow the organization to reduce the portion of its endowment it spends on operations each year to 5 percent. That's the standard threshold at which endowments can both fund operations and continue to grow. The endowment is worth about $367 million.
The board is willing to shoulder criticism, Hiatt said, if it means being good stewards of a 130-year-old institution. The IMA offered free admisison from 1941 to 2006, when board members added a $7 entry fee. They backtracked in 2007, making admission free again.
"The museum has been charging piecemeal for years," Hiatt said. "Research says visitors would rather pay a single admission fee."
Not many visitors to IMA's Facebook page in the last few days seemed to share that sentiment.
"I have been a member for the past 7 years and will have to think long and hard about my renewal in January," wrote Brendan Flood. "Admission fees are one thing, but charging that much for individuals in the Indianapolis market is wrong."
Added Nicole Wall: "Well, you've just priced my family out of visiting. My two teenagers truly enjoyed visiting the museum and we visited often on weekends. There's no way we'll be able to afford it now. I'll have to make sure to visit before you start charging."
Please enable JavaScript to view this content.