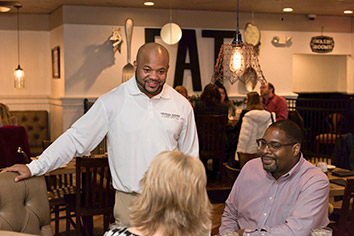 Gary Brackett's personal credo—be humble, be hungry and work harder than everybody else—has served him well.
It helped him make the Rutgers University football team as a walk-on without a scholarship and also earn a spot on the Indianapolis Colts roster as an undrafted free agent, ultimately ascending to defensive captain.
Now he hopes to parlay his success on the gridiron into his restaurant operations.
Brackett, 34, opened Georgia Reese's Southern Table & Bar on West 86th Street in September and finalized a deal late last month to open a downtown location. In the meantime, he increased his share in the local, six-restaurant Stacked Pickle chain to become sole owner.
"Football players are taught wrong—to make as much as you can and live in the lap of luxury," Brackett said. "I would rather just work hard."
Scores of athletes who no longer can compete, because of injury or the effects of aging when most people are in the prime of their careers, find success in business outside of sports.
Those who know Brackett best say he's different. He's more than just an investor; he's a hands-on business owner who regularly visits his restaurants, often lending a hand when needed.
"He's an amazing businessperson, and people respect him," said Jeff Smith, a restaurant veteran whom Brackett lured from Harry & Izzy's to lead his operations. "He's a no-nonsense guy, just like he was on the football field."
Brackett may have been too undersized at his linebacker position to initially garner much attention at either the collegiate or professional levels. That is, until coaches saw how much havoc he could wreak on the field with his 6-foot, 230-pound frame.
Long gone are the shoulder pads, replaced by a traditional long-sleeve Georgia Reese's polo shirt he dons while chatting with employees and patrons at his Cajun-style eatery as Christmas music fills the room.
Excelling on the field
Brackett was born in the gritty borough of Camden, New Jersey, just across the Delaware River from Philadelphia. But at an early age, his mother, a registered nurse and ordained minister who met his father while he drove an ambulance, wanted to get their four children (three boys and one girl) out of the city.
They moved 20 minutes south to Glassboro, population 19,000, where Brackett excelled in football at his roughly 500-student school. The youngest of the three boys, Brackett was always playing with his older siblings, and other kids much bigger than he was.
"I was fearless," Brackett recalled.
When he graduated high school, though, his best offer to play college football came from hometown Division III school Rowan University. Seeking a better opportunity, Brackett enrolled at Rutgers through New Jersey's Equal Opportunity Fund.
He sat out his first year and overall spent five years at Rutgers, graduating in 2003. He got on the field in his second year with the Scarlet Knights playing special teams. But as a walk-on, Brackett felt he never received a fair shake to compete for a starting job.
The break he needed to crack the lineup came after the season Rutgers fired its coach and replaced him with Greg Schiano in December 2000. Pro football fans might know Schiano from the two years he spent coaching the Tampa Bay Buccaneers following his departure from Rutgers in early 2012.
Schiano's arrival at Rutgers represented a new beginning for Brackett, who earned a scholarship and served as defensive captain during his junior and senior seasons while receiving team MVP honors both years.
Still, every single NFL team passed on him in the 2003 draft before he accepted an invitation to Colts training camp as an undrafted free agent. Brackett ultimately made the team—far down on the depth chart as a fourth-stringer.
Similar to his college playing career, he worked his way up through special teams to become a starting linebacker in 2005.
"It's no different than in a restaurant," he said of his ascent. "A lot of stuff is not glamorous—washing dishes, taking out the trash. But those people who I can rely on are my next managers."
Brackett's playing days ended abruptly during the first game of the 2011 season against the Houston Texans. He intercepted a pass and tore his labrum and rotator cuff while being tackled.
Unable to lift his newborn for six months, and with the Peyton Manning era over, he chose to retire.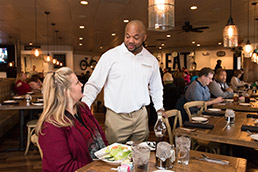 Brackett often strolls the dining room of his Georgia Reese's restaurant, which he opened in September.(IBJ photo/ Eric Learned)
"I always joked that I would play 10 seasons and 10 injuries," Brackett said. "I played nine seasons and eight surgeries, so it seemed like a good time to transition."
Becoming a business owner
Brackett returned to school and earned his MBA from George Washington University, graduating last summer.
In the meantime, he explored becoming a franchisee of a national restaurant chain and even signed an agreement with Buffalo Wings & Rings, but the deal fell through.
He met Stacked Pickle founder Chris Long through a mutual friend and became a part-owner. In late October, Brackett became sole owner of the chain—which features wings, burgers and fish tacos—and is exploring expansions into Southport, Westfield and West Lafayette.
Brackett, however, took a far more risky plunge by starting from scratch to open Georgia Reese's, named for his youngest daughter. He and his wife, Ragan, a doctor in residency at Community Hospital East, have two girls and a boy ranging in ages from 5 years old to 16 months old.
Brackett is confident he's mitigated the pitfalls of the ultra-risky restaurant industry by keeping Long in his circle, as a mentor, and hiring Smith, a former managing partner of Harry & Izzy's, to operate Brackett Restaurant Group.
Off the field, Brackett's not immune to challenges. During a 16-month span, starting in 2003, he lost his mother, father and a brother.
With mini-camps approaching in his second season with the Colts, Brackett donated bone marrow in an unsuccessful attempt to save his brother, Greg, from T-cell leukemia. Greg died in February 2005.
Two years later, Brackettl launched his Impact Foundation to provide opportunities for disabled and disadvantaged children.
Drew Miroff, a partner at Ice Miller LLP, serves on the not-for-profit's board and helped Brackett shape his business plan.
"I've watched him evolve," Miroff said. "It's very similar to how he was on the football field, in that he's extremely smart. He really studies and wants to learn all about how business in general works."
Steve Delaney, a restaurant broker at Sitehawk Retail Real Estate, doesn't know Brackett personally. But his impressions of Brackett's operations so far are positive.
"He's all-in," Delaney said. "He's got the desire, but you need the expertise, and it sounds like he's got it."
You also need cash. Brackett used part of a five-year, $33 million contract he signed to help finance the business, though he received only a portion of the money because of his injury.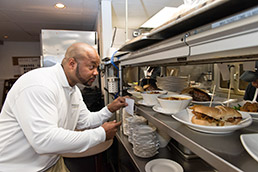 Brackett is a hands-on business owner at his restaurants, no stranger to the kitchen at Georgia Reese's on West 86th Street. (IBJ photo/ Eric Learned)
He also received a loan from Huntington Bank backed by the Small Business Administration.
Brackett declined to divulge specifics regarding revenue for either Georgia Reese's or Stacked Pickle. But he said he hopes to next year grow Stacked Pickle sales 10 percent and to grow Georgia Reese's market share.
Brackett and Smith aim to open the downtown Georgia Reese's, in space on East Washington Street near Meridian Street, by May. They then hope to take their Southern and soulful cuisine to Louisville, Smith's hometown. Fort Wayne could be in the offing, too.
For now, Brackett is focused on what got him here—being humble, being hungry and working harder than everybody else.
"If you do those three things," he said, "you can find success."•
Please enable JavaScript to view this content.