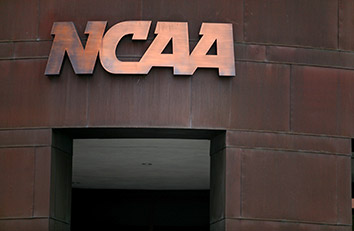 Oliver Luck is ready to embark on another rebuilding project.
He hopes to rebuild trust and confidence in the NCAA. He's pushing for clearer rules, a more efficient enforcement system and punishments that are easy to understand. And he wants to protect the "fundamental" right of college athletes to get paid for the use of their names, images and likenesses.
On Thursday, the NCAA's new executive vice president for regulatory affairs outlined a broad vision to change the image of an organization already in the midst of a major overhaul.
"I believe both as an individual and as an attorney in those fundamental rights that a student-athlete has, and I'm looking forward to having a longer dialogue with Mark and many others," Luck said, referring to his new boss—NCAA President Mark Emmert. "Ultimately, I think what we want to do is to what's right for student-athletes."
Luck has not wavered in his belief, though he did make one clarification during a conference call with reporters.
Earlier this year, Luck said players had a "constitutional right" to be compensated for the use of their names, images or likenesses. On Thursday, he called it a "fundamental right."
Regardless, the soon-to-be ex-West Virginia athletic director contends players should be compensated for those uses, which should create some interesting internal discussions with Emmert and NCAA lawyers, who have forcefully argued in court and in public that a loss in the Ed O'Bannon case over that very issue could change the foundation of college sports.
Luck said he knows that some university and conference administrators are already making contingency plans for an appellate court loss in the O'Bannon case.
"I can tell you, just like in the Big 12 with my athletic director colleagues, all the conferences are looking very closely at (U.S. District) Judge (Claudia) Wilkens' decision, trying to figure out how to implement that," Luck said. "Some decisions by some institutions have already been made to provide the full trust fund payments for a student-athlete's names, image and likeness, and I think we'll see more and more of that."
Luck's hiring may not just change the debate.
For more than two years, the governing body has faced almost constant criticism on a wide range of subjects including the Penn State decision following the Jerry Sandusky scandal, its own self-inflicted scandal surrounding the University of Miami investigation, lengthy investigations, inconsistent punishments, even its inability for a time to enact measures widely supported by the richest football schools—measures that could have helped fend off some lawsuits. Bringing in an outsider could help create the impression the NCAA is changing directions.
The addition of Luck also could give athletic directors, who have long complained about not having a loud enough voice at the NCAA, another proponent.
University presidents and chancellors believe they addressed that concern by approving a new governing structure that gives the power-five conferences more autonomy over some rules and athletic directors a larger voice in how college sports operate. The new structure is scheduled to take effect next month.
Luck also brings a unique perspective to NCAA headquarters in Indianapolis.
The former star quarterback and Rhodes Scholar finalist at West Virginia went on to play five seasons in the NFL. After earning his law degree, Luck became a team executive with two different franchises in the European-based World League of American Football. He was later named CEO of NFL Europe, the successor to the WLAF, and also served as president of the Major League Soccer's Houston Dynamo. In 2008, he was appointed to West Virginia University's board of governors and took over as the athletic director in 2010, where he heard plenty of complaints about the NCAA.
"I've heard an earful from my colleagues and from others about the potential misgivings or missteps by the NCAA. They tend to focus on the enforcement side of things," Luck said. "What athletic directors want today are clear rules, an expedient process, even-handed enforcement and a timeliness for all of that."
Luck also understands what college athletes cope with today. His son, Andrew, and daughter, Mary Ellen, both graduated from Stanford after successful athletic careers. Andrew is now the star quarterback of the NFL's Indianapolis Colts.
"I've spent most of my adult life trying to get as far away from my folks as possible," Andrew Luck joked after Wednesday's announcement from the Indy-based NCAA. "Obviously I love him, he's my dad. I think he's going to do great no matter what he does."
And the mission is simple.
"My job is to build trust and confidence within the organization, with all of our constituent groups," Oliver Luck said. "As an organization, we have to look at what we can do to inspire even more confidence from our constituent groups is to be as clear and open and as transparent as we possibly can so that our constituent groups understand the why, if you will, of the decisions that are made in Indianapolis and elsewhere."
Please enable JavaScript to view this content.