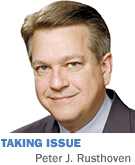 With no more elections on his watch, our president has entered (with apologies to Shelley) his "Obama Unbound" phase, freed from political constraints and entitled to unilaterally impose his will.
Exhibit A, of course, is the immigration executive order, with "prosecutorial discretion" a pretext for unilateral repeal of vast swaths of law. In an unscripted moment, Obama was candid about this. Interrupted by hecklers demanding no deportations, period, he replied, "What you're not paying attention to is the fact that I just took an action to change the law." Just so.
Then came Obama's volte-face on Cuba, reversing the policy of 10 immediate predecessors. This could not have come at a better time for the Castro brothers.
"In recent months," a critic noted, "the outlook for the Castro regime in Cuba was growing steadily darker." Efforts to "improve abysmal economic conditions had stalled," while Venezuela's economic collapse imperiled "huge subsidies that have kept the Castros afloat for the past decade."
Enter Obama, with "a comprehensive bailout" that "granted the regime everything on its wish list that was within his power to grant." These include diplomatic relations and lifting restrictions on American investment and travel, thereby giving Cuba "a fresh source of desperately needed hard currency and eliminat[ing] U.S. leverage for political reforms."
The critic is the liberal Washington Post, whose editorial concluded: "Mr. Obama may claim that he has dismantled a 50-year-old failed policy; what he has really done is give a 50-year-old failed regime a new lease on life."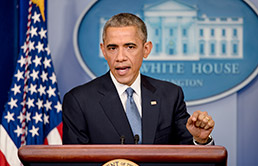 Rusthoven cites immigration order, new Cuban policy as warning signs Obama plans to "unilaterally impose his will." (AP photo)
On Cuba, the president observed constitutional limits on his power (e.g., not attempting full elimination of the trade embargo, which requires legislation). More disturbing are instances such as the immigration order, when such limits are ignored.
Consider one further example—the EPA's "Clean Power Plan," proposed in June but scheduled to take effect post-election. This is part of Obama's effort to impose his climate-change policies regardless of differing congressional or state views.
As one legal scholar explains, the plan "would set a carbon dioxide emission target for every state, and the EPA would command each state, within roughly a year, to come up with a package of laws to meet that target." After EPA approval, "the state would then have to impose those laws on electric utilities and the public."
Hence, the EPA would "dictate the energy mix used in each state and leave the state with essentially no choice in implementing its plan." But as the scholar notes, such "federal commandeering of state governments defeats political accountability and violates principles of federalism that are basic to our constitutional order."
The scholar? Harvard law professor Laurence Tribe, whose politics and constitutional views are liberal indeed. Yet as even he points out, "Frustration with congressional inaction cannot justify throwing the Constitution overboard."
George Washington University Law School's Jonathon Turley agrees. He, too, is quite liberal, and states clearly that, "I do not believe that Obama is (or wants to be) a tyrant." But Turley is equally clear that Obama's "unilateral actions are redrawing the lines of separation in our system in a way that I believe could prove destabilizing and even dangerous in the future."
Citing a host of unilateral actions even before the 2014 election, Turley believes "Obama may be the president Nixon always wanted to be."
Buckle up. It's going to be a wild two years.•
__________
Rusthoven, an Indianapolis attorney and graduate of Harvard College and Harvard Law School, was associate counsel to President Reagan. Send comments on this column to ibjedit@ibj.com.
 
Please enable JavaScript to view this content.