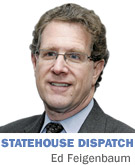 Lawmakers return to the Statehouse Jan. 6 to cobble together a two-year budget and tend to assorted policy matters before the end of April.
While the governor, legislative leaders and individual legislators were particularly prolific in setting forth various agenda items from shortly before the election through mid-December, the primary focus in 2015 will be on the budget.
Several other concerns—such as education funding and reform, propping up the gambling industry against competition from other states, and family and social services resources—all are tied into the budget.
Legislative fiscal leaders and Gov. Mike Pence all placed a hold on specifics—overall bottom lines for the budget, taxes, state surplus and individual programs—until the state's outside economic forecaster delivered his fiscal projections in mid-December. The news for the remainder of fiscal 2015 was mildly disappointing.
Revenue is expected to be $129 million less than what was forecasted when the current budget was drafted, meaning further belt-tightening … and pressure to spend from reserves.
The general economic forecast was slightly more positive than many had expected, with revenue estimated to grow 2.4 percent in fiscal 2016 and 3.2 percent in fiscal 2017. Some $30 billion will be available to spend, assuming the numbers hold true, with almost $843 million in new dollars from economic improvement.
But when you parse those numbers, they are not particularly encouraging.
Those preparing the budget suggest even a 10-percent boost wouldn't accommodate reasonable requests for new funding. House Speaker Brian Bosma, R-Indianapolis, would like to raise K-12 spending more than 2 percent, but even 1-percent growth annually requires almost $70 million. Democratic Superintendent of Public Instruction Glenda Ritz seeks another $560 million for schools.
You must back things up a bit as well.
Recall that revenue estimates for the current budget fell short, and Gov. Pence ordered major reversions. Thus, when you factor in inflation and add back reversions (and new spending obligations, like maintaining new state highway miles), you'll find only a minimal amount—perhaps well under $100 million— available for new spending. Even that presumes legislative fiscal leaders ultimately base their final decisions on the full amount of growth economists forecast.
With most key lawmakers and Pence calling this an education-first session, the lack of any substantial new cash makes it challenging to attack problems with dollars.
Most Democrats want the urban districts they largely represent to receive additional dollars based upon the "complexity index," accounting for factors such as poverty, special education needs and non-English-speaking students. They also want to compensate schools for losing students, particularly to private and charter schools.
Many Republicans would prefer the formula accommodate the growing suburban school districts that now receive less money per student despite their need to expand and build facilities. But some Republicans aren't on board. They represent rural districts, where school corporations with enrollment declines find themselves slighted for some of the same reason as urban districts.
Pence is offering a third option, advocating a "fairness" and "equity" approach further empowering parents and their students by busting individual and overall caps on vouchers. That proposal has some immediate appeal for many Republicans, but some are concerned about the impact on funding of public schools in their respective districts, and being perceived as the "anti-public-schools" party.
Things become more complicated when lawmakers look ahead to expanding pilot preschool education programs, even as Democrats talk up funding full-day kindergarten and making textbooks free to all students.
This session will feature a battle of priorities, led by education spending. With no game-changing revenue enhancements on the horizon, the gap between perception and reality on the forecast can't be bridged.•
__________
Feigenbaum publishes Indiana Legislative Insight. He can be reached at edf@ingrouponline.com.
Please enable JavaScript to view this content.