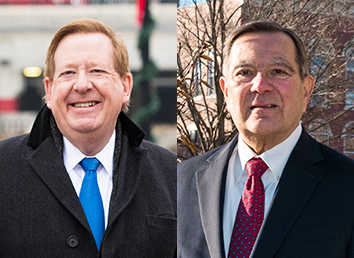 Carmel Mayor Jim Brainard is only half joking when he says he owes his first election victory to O.J. Simpson, whose televised 1995 murder trial gave the candidate's cable TV commercials unexpected exposure.
Up the road in Noblesville, insurance agent John Ditslear won the 1999 mayor's race running as an independent—after the Republican candidate got into legal trouble between the primary and general elections. (He went back to the GOP afterward.)
Each said he felt compelled to serve his community when the opportunity arose, and each has been his city's chief executive ever since. Now, both men are gearing up for the 2015 municipal elections: Brainard's sixth and Ditslear's fourth.
Such staying power isn't unheard of in local government, but it is nevertheless striking given the phenomenal growth—and resulting change—Hamilton County has seen in the past 25 years.
Indeed, more than two-thirds of all Carmel and Noblesville residents (85,000-plus in Carmel and about 56,000 in Noblesville) have moved in since 1990, according to U.S. Census data. The countywide population has more than doubled since then, to nearly 297,000.
Since Brainard and Ditslear took office, Westfield residents elected (and re-elected) their first mayor, former trucking company executive Andy Cook, and Fishers voters chose former Town Manager Scott Fadness to lead the town's 2015 transition to a city as mayor.
So what lessons can newer city leaders learn from their long-serving peers?
"I think when you get mayors in positions that long, they tend to be people who actually love their cities," said Sheila Kennedy, a professor at IUPUI's School of Public and Environmental Affairs who served in four-term Indianapolis Mayor Bill Hudnut's first administration. "When you get someone like that, whether you agree with the policies they pursue or not, at least you know they're pursuing them for the right reasons. It's quite lovely."
'Contract with Carmel'
Brainard was a young attorney with a growing family when he moved them to Carmel in the early 1990s. Friends urged the lifelong Republican to challenge incumbent Ted Johnson in 1995, and he responded with a 10-point "Contract with Carmel" that spelled out his goals for lowering taxes, reducing city expenses, bolstering parks and recreation, and accelerating road improvements, among other items.
He still stands by the priority list, which he said has been accomplished with just one exception: As a candidate, Brainard proposed privatizing utilities. He soon reversed course, concluding private operators don't necessarily put ratepayers first.
Known now as the visionary behind ambitious downtown development projects including Carmel City Center and the Arts & Design District, Brainard began working to build the dense urban core after hearing from residents on the campaign trail who wanted an identifiable, usable downtown.
Inspired by the European cities he visited while studying abroad during law school, he set out to reinvent Carmel as an "edge city" rather than a sleepy suburb.
Among his early accomplishments: building Hazel Dell Parkway as a four-lane, trail-lined thoroughfare north of 96th Street; completing the acquisition of 246 parcels of former railroad right-of-way for a recreational path—now the wildly popular Monon Greenway; and annexing dozens of unincorporated "pockets" throughout Clay Township to streamline the delivery of city services and lower city taxes.
Little has come without controversy, usually in the form of complaints that Brainard has overstepped his bounds or overspent his budget in pursuit of his vision.
Even the Monon property acquisition prompted vitriol: An avid opponent outfitted his pickup truck with a sign saying "Brainard condemns," a reference to the eminent domain process, and parked it on Monument Circle in downtown Indianapolis.
The mayor dismisses most of the criticism as politics, saying—as he did in defending the trail development—that he won't be deterred by a vocal minority of critics, even if some of them are on the City Council.
"I still love my job," he said. "I don't like the political side of it."
When he took office, Brainard hoped to serve two terms, as his predecessor Jane Reiman had in the 1980s. Once he got started, that didn't seem like enough.
"It seems to be that we're always in the middle of a major project when the election comes around, and we want to see it finished," said Brainard, 60.
Carmel's Center for the Performing Arts was in the process of opening during the last local campaign season, for example. This year, private development partner Pedcor Cos. expects to begin the final phase of Carmel City Center construction.
Brainard had two challengers in the 2011 Republican primary but was unopposed in the November election. Candidate filings for the 2015 elections begin later this month.
Slow pace of progress
Ditslear moved to Noblesville in 1966 after a post-college stint as a naval officer, taking a sales job with the Indianapolis insurance giant that is now OneAmerica.
His military service gave him a taste for spit-and-polish neatness and yes-sir/no-sir courtesy, but it also taught a 23-year-old finance major when to step back and let his subordinates do their jobs.
That lesson stuck with Ditslear when he entered the public sector. As mayor, he tries to fill top jobs with skilled professionals, then employs a hands-off management style.
"The professionals know a whole lot more than I do," he said.
Still, his foray into politics wasn't exactly planned. An active member of his community, Ditslear leveraged his local connections to sell group benefits to employers, including the city of Noblesville and Hamilton County.
He was an insurance vendor for five Noblesville mayors, including his predecessor, Dennis Reddick, learning the inner workings of city government along the way.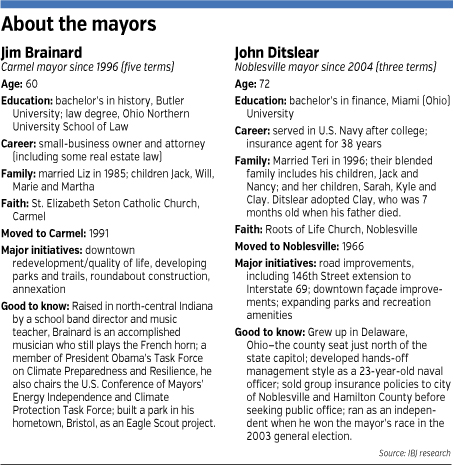 So when Reddick's 1999 re-election campaign was derailed by an outburst at a concert, Ditslear heeded his wife Teri's advice and ran for mayor. He won with almost half the votes and found his calling.
"It's not really work to me," the 72-year-old said. "I love what I'm doing."
Ditslear's early mayoral accomplishments included extending 146th Street east to Interstate 69, connecting the heart of the city to its shovel-ready Corporate Campus. That project literally paved the way for Indianapolis-based Simon Property Group Inc. to choose land nearby for its upscale Hamilton Town Center outdoor mall.
During Ditslear's tenure, the city also has established a façade grant program for property owners in its historic downtown and began surveying residents every few years to assess community priorities.
His mayoral motto: Serving Noblesville, one person at a time.
Parks development and economic development are also areas of emphasis for Ditslear, who in December won council approval for a $6 million "gateway" to downtown just west of the White River. He hopes the so-called Federal Hill project, which includes an outdoor amphitheater, will spur private investment in the area.
The slow pace of progress is one reason Ditslear has kept his name on the ballot for more than a decade.
"There are so many things to do and government moves slowly," he said, ticking off a half-dozen items still on his to-do list.
Some, like Federal Hill, are in the works. Others, like mass transit, are longer-term initiatives that likely will have to be completed under the direction of future administrations.
Whether Ditslear has challengers this year as he did in 2011 or is unopposed like he was in 2007, the mayor said the upcoming campaign will be his last.
"Of course, I might have said that last time, too," he said.
'Transformational' leaders last
If he wins re-election, Ditslear will be Noblesville's longest-serving mayor. Brainard already has that distinction in Carmel. Both fall short of Scottsburg Mayor William H. Graham, their Hoosier colleague who is in his seventh term.
Despite mayoral turnover that has topped 50 percent in the last three municipal elections, Indiana has "more than a handful" of cities with mayors who've served at least three terms, said Matt Greller, executive director of the Indiana Association of Cities and Towns. The common denominator, from his perspective?
"Mayors that are around a long time get the job done and get the job done well," he said. "They aren't sitting idly by, letting the city run itself. They are transformational."•
Please enable JavaScript to view this content.