Jack DeBoer, a Kansas-based businessman known as the creator of the extended-stay hotel, is bringing his latest lodging concept to Indianapolis.
DeBoer, who transformed the hotel industry in the 1980s and 1990s when he launched Residence Inn, Summerfield Suites, Candlewood Suites and Value Place, in September launched WaterWalk—a hotel/apartment hybrid—in Wichita and is searching for sites in Indianapolis as well as Atlanta, Houston, Louisville, St. Louis and Charlotte, N.C., to expand the chain.
DeBoer has sold all his other extended-stay chains to larger hotel companies except Value Place, which has four locations in central Indiana.
WaterWalk, DeBoer said, offers more space than a typical hotel room and more services than even most upscale apartments. It's more like an apartment than a hotel, and even WaterWalk officials bill it as the nation's first "all-inclusive apartment." Like an apartment, WaterWalk's developments will have an in-unit washer and dryer, and kitchen appliances.
But the 133-unit complexes also have some very hotel-like features. For instance, WaterWalk will offer around-the-clock concierge and car or shuttle service, free in-room breakfast, housekeeping, and free cable television and Internet.
The units also are supplied with all the extras you'd expect in a hotel—like coffee, soap and shampoo—along with additional items like laundry detergent. A shopping service for guests also is offered. And unlike apartments, WaterWalk requires no application fee, security deposit or long-term lease.

DeBoer
Officials for privately held WaterWalk devised their rollout plan after studying a recent independent market report by The Highland Group, an Atlanta-based hotel research firm.
"The reason we chose Indianapolis is that we've had success with our past brands there and we feel there's a growing demand for this type of establishment," said WaterWalk President David Redfern. "The Highland Group report backs that up."
Redfern said the demand for such housing in Indianapolis is so strong, "it's at the top of our list."
WaterWalk officials are in the process of evaluating "a handful of sites" in Indianapolis, with a goal of breaking ground in the first part of this year and opening by the middle of 2016, said David Lee, who is heading up WaterWalk's local operation.
"It appears initially we'll be on the north side or downtown," Lee said. "I anticipate we'll have three of these developments open in the next 24 to 30 months. The other locations could definitely be on other sides of town."
WaterWalk "is upscale, not luxury—comparable to a Marriott or Hyatt," Redfern said. Its target market is business travelers looking for a place to stay for a week or two, up to 12 or so months, he added.
Units range in size from 750 square feet for a one-bedroom to 950 square feet for a three-bedroom. That's 250 to 450 square feet larger than the typical hotel room. Even most large extended-stay hotel rooms are fewer than 600 square feet.
Most of the WaterWalk units have two bedrooms and two full bathrooms and are 850 square feet, and about half are furnished, according to company officials. The units include a full-size kitchen, oversize closets in the bedroom(s), and living and dining room.
While the target market is businesspeople looking for extended-stay accommodations, WaterWalk does offer a one-night stay in a furnished one- or two-bedroom unit for $250. The furnished units typically cost $3,500 to $4,000 per month; unfurnished units range from $1,200 to $1,450.
While DeBoer has a proven track record, "it remains to be seen if Indianapolis is ready for this concept," said Mark Eble, Midwest regional vice president for PKF Hospitality Research. "I think there are some questions about the demand they'll see from the type of corporate travelers they're seeking here."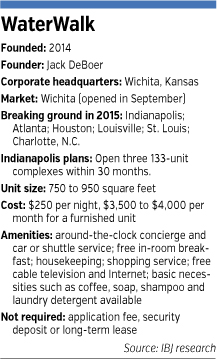 Eble pointed out that, according to PKF's research, the average stay at a traditional hotel is 1.8 nights, and four nights at extended-stay hotels.
"I'm just not sure how many people are looking for a place to stay like this for weeks or months at a time," Eble said. "But Mr. DeBoer has a good track record in [the extended stay] segment, and he clearly feels he's found an untilled field. So we'll see."
The Highland Group study found that the corporate housing industry has grown into a $4-billion-a-year enterprise, and the average stay in that category is 84 days.
"The need to be mobile in our society is growing, and this segment is growing," Lee said.
While there are companies that specialize in corporate housing, those offerings are usually spread in small numbers among multiple apartment complexes.
"There are no other brands that are purpose-built for this market like WaterWalk," Lee said. "With most corporate housing, the experience is never consistent and the conditions and offerings are often unknown until you arrive."
The profit margin for extended-stay properties is among the highest in the hotel industry, which bodes well for WaterWalk, Eble said.
Full-service hotels have a profit margin of just under 27 percent, while extended-stay hotels are at 38.1 percent, according to PKF.
"The difference is more pronounced when you consider that this kind of [extended stay] hotel averaged $32,516 in revenue per available room annually versus $23,481 for limited-service hotels," Eble said.
Redfern is not swayed by skeptics of the demand for this type of development.
"Today, there are more people relocating, more people doing corporate training, and more people working on special [out-of-town] projects than ever before," he said. "We're beyond optimistic."•
Please enable JavaScript to view this content.