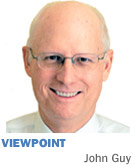 Want to avoid investment mistakes in the new year? Easy: Obtain a list of potential mistakes. These lists are widely available via Google. Reviewing them once a year in January is a good idea, especially this year, when all of us are vulnerable to the powerful error of responding to euphoria, to the best stock market in history.
Euphoria was called to my attention by Tom McAllister, one of Indiana's first certified financial planners.
The antidote to acting on euphoria is to think, to read about past bull markets and speculative binges, to ignore or deny the legendary words, "It is different now," and to invest today with the same criteria that should have been applied in March 2009, when the market was one-third of today's values. Both euphoria and panic are easily treated by a disciplined regimen of patience and perspective.
Investors should recall two axioms: "A rising tide lifts all ships" (the present tide being spectacular), and, "A falling tide reveals all naked swimmers." The message is to keep your clothes on—a warning not to use leverage, not to borrow to purchase securities.
At good times like these, do investors speculate while thinking they are investing? Do they tell their spouses, "Dear, I invested today in such and such" when, in fact, they purchased shares or bonds of companies they do not know personally, that sell unknown or exotic products or services, and are managed by 30-year-olds whose entire income and profits come from shareholders?
Are people today slowly removing their clothes by chasing high yield, by exchanging their long-held insured deposits in banks to buy the first stock they ever have owned because it has a high dividend? Are junk bonds and junk mortgages floating on the high tide attracting the unwary by appealing stories and by publishing high distribution rates that are nothing more than return of the investor's own capital?
Absence of diversification is on lists of mistakes. Mark Twain is believed to have advised to put all your money in one basket—and to watch that basket. This ironic advice came from a man who put lots of money into a new printing machine, and he added money to it despite evidence of failure.
He was saved from destitution by his real talent—good humor—which attracted paying audiences everywhere. Mark Twain also admonished individuals not to invest in October, and then he listed the other 11 months.
Though not as life-threatening as concentration, over-diversification is a potential problem because investors begin to forget what they own; they cannot keep up with them all.
To McAllister's list I add: Acquiring only packaged investment products, which means never to purchase and own shares of common stocks. A packaged product, usually a mutual fund, is a collection of securities in attractive packaging with enticing names like "growth," "small cap" and "high yield."
Knowledgeable investors use them well, but how can anyone become knowledgeable without once or twice having owned a component of the packaged product? How can individuals appreciate what a mutual fund manager does day to day if they do not understand—through experience—the assets he is purchasing for us?
Since the days of the powerful spice-seeking trading companies and of the original stock exchange in Amsterdam, the asset represented by an elegant "stock" certificate has been the connection between persons with money and persons who produce goods and services, between the consumers who stare at their phones 20 hours a day and the moneyed investors who own Apple and Samsung. Seeing the connection, reading reports, receiving dividends, directly observing the normal ups and downs of business, being involved, is the path to understanding.
So, buy shares of a local company. Buy something familiar for a son or daughter. Be involved. Understand. Avoid mistakes.•
__________
Guy, a local wealth manager, is the author of "Middle Man: A Broker's Tale."
 
Please enable JavaScript to view this content.