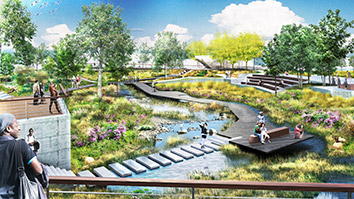 Westfield city leaders are making downtown redevelopment a priority in 2015, aiming to begin construction of a 10-1/2-acre urban park with a festival plaza and "great lawn" overlooking an outdoor stage—to say nothing of the sit-down restaurant, riparian trail or comfort station that will serve four recreational paths converging on the site.
The roughly $25 million project slated for the area southwest of Main and Union streets has been targeted for renewal since at least 2007, when the city's comprehensive land-use plan called for making downtown more of a vibrant destination.
Mayor Andy Cook enlisted a group of citizen volunteers to come up with a vision for the problematic property, which is bisected by Grassy Branch Creek and one of its tributaries. The result: Grand Junction Plaza, which embraces the site's natural features while providing amenities designed to draw—and engage—residents and visitors.

Cook
"This truly will be the jewel of urban parks in Indiana, if not the Midwest," Cook said.
A 2011 master plan called for a three-phase, $60-million-plus project that included substantial private investment (with two parking garages) in the block between Grand Junction Plaza and Main Street.

The city began acquiring property three years ago, and last spring enlisted Philadelphia design firm Land Collective to get the roughly $25 million civic plaza portion off the drawing board.
Private developers already have been discussing commercial projects in the area, Cook said, but not much can happen until a stormwater issue can be addressed during plaza construction.
Cook likened the city's investment in Grand Junction—$25 million is an estimate that will be refined this year—to the big bet Westfield made on its Grand Park Sports Campus, a 400-acre, $45-million-plus youth sports facility that opened last year.
Both are economic development plays, he said, intended to attract more taxpaying businesses, ultimately lowering the citywide tax rate.
Indeed, a privately funded hotel and basketball fieldhouse are in the works at Grand Park, and the mere promise of Grand Junction Plaza has sparked restaurateurs' interest in downtown Westfield.
"It's a wonderful opportunity to explore sociology with design," said Land Collective principal David A. Rubin. "When you design with the intent to bring people together, it can be an extraordinary economic generator.
Rubin
"People want to be there, and businesses want to be where the people are. It becomes an incredible, beautiful spiral of energy."
Not everyone shares his enthusiasm. Skeptics question the cost of the projects—and the associated burden on taxpayers—and fret over Westfield's history being lost in the rush to renew.
Former Town Council member Ron Thomas, who has been critical of the administration's strategy, said he doesn't understand how taking downtown property off the tax rolls and spending "a fortune" on the plaza will pay off for residents.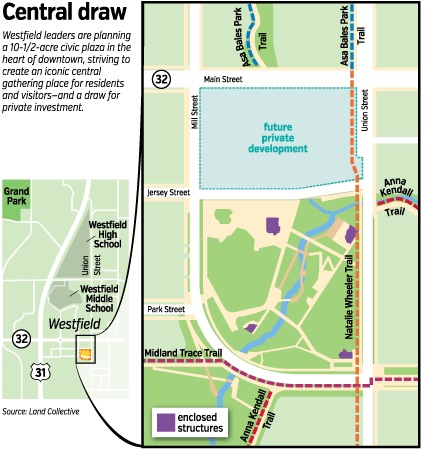 "To what degree do the taxpayers benefit?" he asked.
Purposeful public spaces
Rubin describes Land Collective as an "empathy-driven land studio" that strives to create purposeful spaces where people want to gather and interact.
Its portfolio includes the University of California Berkeley's California Memorial Stadium and Canal Park in Washington, D.C., but Westfield officials interviewed the landscape architect after seeing Land Collective's work on The Commonground, a park at the main entrance to the new Eskenazi Hospital in Indianapolis.
Grand Junction Plaza is "an extraordinary gesture toward community," Rubin said, praising the city for recognizing the value of public open space.
"It's not a huge site," he said, "but it's going to be a very powerful one."
The site is designed as a circuit connecting several elements. The spark: the people using it.
Jersey Plaza, in the northwest quadrant of the park, would be a hub for festivals and seasonal events—including ice skating. From there, the great lawn gently slopes down (and south) to the amphitheater, in one of four planned pavilions. (The plaza pavilion would house a small cafe and skate rentals.)
The northeast quadrant, where the waterways meet, is dubbed the Confluence. A pavilion near Jersey and Union streets would feature a sit-down restaurant, with outdoor seating overlooking the creek and a network of bridges and walkways crossing it.
Land Collective's plans, developed in collaboration with a bevy of subject-area experts, also include some stream remediation to stabilize the water systems and make them more accessible, Rubin said.
A major part of the project is a so-called regional detention system that will resolve existing flooding issues and allow for additional development downtown.
"It is an extremely unsexy, expensive component that most people will never see," Cook said. "It's also absolutely imperative if we're going to develop the park plaza."
The mayor praised the plans to make the creeks a featured attraction, rather than the "embarrassment" they are now.
In addition to the wetlands, the eastern half of the park features open spaces accessible by paved and mown trails: meadows, grassy fields and woodlands—including a productive orchard.

At the southeast corner of the park, where an extended Mill Street will meet Union, a trailhead pavilion will welcome bikers, pedestrians and golf carts arriving on one of the city's four central trails.
And about those pavilions: They're not run-of-the-mill suburban park shelters.
Rubin and building architect Hollwich Kushner of New York City drew inspiration from the Jeffersonian grid—the system of squares used to subdivide undeveloped land starting with the Louisiana purchase—to envision a 72-foot-by-72-foot block broken into four jagged pieces, each scattered across the park.
Their flat "exterior" sides will be a transparent glazed material, Rubin said, and the "broken" sides Indiana limestone. From certain angles, they'll all but disappear. From others, they will serve as beacons.
"We had this vision of a huge block of limestone being pulled apart, exposing this fantastic interior," he said, "almost like a geode would do."
Warm lighting around the pavilions is designed to give them a lantern-like glow, a subtle nod to the city's Underground Railroad heritage.
Private sector buy-in
Thomas, the citizen critic, said he thinks the park design missed the mark when it comes to paying homage to Westfield's Quaker history, which the Grand Junction Task Group recommended be a priority.
Cook and Rubin said that's a tall order, given Quakers' unassuming nature. The city did invest hundreds of thousands of dollars on another project called out in the master plan, renovating Old Friends Cemetery Park along Union Street several years ago.
While crews tackle the $2 million extension of Mill Street to connect with Union Street, forming the park's southern boundary, the design team is working to convert its schematic drawings into construction documents that will give officials a better feel for costs and financing options.
Cook said his team likely will recommend that the City Council authorize a combination of tax-increment finance funding and some of the $40-million-plus cash infusion that followed last year's sale of the city's water and sewer utilities to Citizens Energy Group. Those funds can be used only for infrastructure.
Whatever the development details, a handful of business owners were confident enough in the prospects for Grand Junction Plaza that they invested early.
First came Carmel apartment developer J.C. Hart Co.'s $21 million Union Street Flats, a 238-unit community just south of the park. CEO John Hart Jr. told IBJ the company chose downtown Westfield for the project because of the civic plaza.
Then came a microbrewery, a gourmet market and a local pizzeria.
Grand Junction Brewing Co. even borrowed the name when it opened last year on Union Street, across from the future park.

Kingshill
"That's huge, to get that buy-in from the private sector," said Ken Kingshill, executive director of the Downtown Westfield Association and founding chairman of the volunteer Grand Junction Task Group.
Then there was Toby and Melanie Miles' decision to renovate an 1890s barn tucked away on Park Street—an obscure location now, but park-side someday—for their Rail Epicurean Market, which also opened in 2014.
Before long, the popular Rail was joined on Park by Greek's Pizzeria.
And now Wolfies Grill owner Scott Wolf has two downtown Westfield eateries in the works: another outlet of the local chain's woodsy-themed sports bars and a fine-dining Italian restaurant.
"We went on some faith that it would all go through," Toby Miles said. "Every time the city releases something new, it builds my confidence."•
Please enable JavaScript to view this content.