Just call 2014 the year of the corporate spinoff frenzy. And 2015 might be just as crazy.
Time Warner Inc., Sears Holdings Corp. and Kimberly-Clark Corp. are some of the better-known companies among a multitude completing spinoffs last year.
Locally based Simon Property Group Inc. and other Indiana companies were in the mix as well, and a record 44 companies worldwide completed spinoffs in 2014, according to a study released last month by The Edge Consulting Group Ltd.
The London-based firm tracks only companies with market values of $250 million or more, and it's been following spinoffs since 1999. Its study said the combined market value of parent companies involved in de-mergers in 2014 was also a record at $664 billion, and that companies worth a combined $775 billion had already announced spinoffs for 2015.
Spinoffs have long been seen as a mechanism for
unlocking a business unit's potential or sharpening a company's focus. But the activity has been particularly hot lately, and impatient shareholders are often the motivation.
"You're seeing activist investors who are having trouble finding undervalued stocks in what is a pretty strong bull market," said Jim Birge, a Faegre Baker Daniels LLP partner specializing in corporate finance. "For the value investors looking for undervalued stocks, there aren't a lot of those out there—even with the market being relatively flat to slightly down this year."
For various reasons, some companies over time end up with multiple business lines, many of which have little, if anything, in common. Sometimes the diversity helps stabilize parent companies, as one unit might do well when others face headwinds.
But that might not be the value investors are particularly interested in these days, especially since stock indexes have been on nearly a six-year tear—the Standard & Poor's 500 Index has nearly tripled to 2,022 since March 2009. There may be greater value, said Ken Skarbeck of Indianapolis-based Aldebaran Capital LLC, in uncoupling.
"There's a theory that the sum of the parts is greater than the whole," Skarbeck said.
Room to grow
A spinoff can free a promising business segment from an onerous corporate structure, enabling the stand-alone to better respond to changing markets and opportunities.
That's what happened with former Ingersoll-Rand Inc. subsidiary Allegion Plc, a 14-month-old company registered in Ireland but whose U.S. headquarters is in Carmel. In a recent phone interview, Allegion Chief Financial Officer Patrick Shannon said his company, which makes security products, often found itself competing for resources under its diversified industrial parent.
"All the cash that the Allegion security business derived from its operations would go to the parent," he said. "Some of it would come back; some of it wouldn't."
"Now, being a stand-alone company, we have an opportunity to utilize all of our cash" to boost internal growth and to make strategic acquisitions, Shannon said, "which we have done, by the way."
Allegion shares grew 27 percent in the year following its Dec. 1, 2013, spinoff, compared with 15 percent for the S&P 500 in the same period.
Besides autonomy, spinoffs may also benefit from fresh board and management focus, observers said.
Jasper-based Kimball International Inc., for instance, previously had an electronics unit and commercial furniture operations in its corporate nest. On Oct. 31, it spun off Kimball Electronics to let a dedicated team focus on that sector while the parent focused on furniture.
Kimball Electronics shares were up around 60 percent two months after the split.
Allegion and Kimball aren't the only top performers. The Edge noted that spinoffs have yielded average returns of 22 percent one year after their de-mergers and 48 percent two years later.
"They've outperformed" the broader market, The Edge CEO Jim Osman said in an interview. He also said spinoffs often become ripe for merger and acquisition opportunities, which could add further shareholder value.
Parent companies might benefit, too.
On May 28, shopping center giant Simon spun off its strip centers and smaller enclosed malls into a company called Washington Prime Group. Simon said it was so concentrated on its larger retail centers that it could not dedicate as much attention to the Washington Prime properties.
The Edge praised the move, noting that the removal of the less-productive properties should result in Simon's seeing an improvement in key operating metrics like sales per square feet, prompting analysts to re-rate it in line with high-productivity peers like Taubman Centers Inc.
As of Jan. 20, Simon shares were up 21 percent since the spinoff. The S&P 500 was up 6 percent over that time.
Not without risk
Even though some activist investors are eagerly pressing for spinoffs, most of the deals aren't home runs.
In December, New York-based R.F. Lafferty & Co. Inc. released a report noting that only 45 percent of the spinoffs that went public since the beginning of 2013 outperformed the S&P 500.
Robert Sassoon, the report's author, said that figure was 52 percent in the preceding report and that spinoffs have generally been a rich source of value creation over the years. But the recent report underscores that there will be duds, and results can vary widely, depending on sector.
"The energy sector didn't do too well, for obvious reasons," Sassoon said in an interview, alluding to declining oil prices, "and most of that drop-off was in the second half of [2014]."
Some Indiana spinoffs have also seen their stock prices slim down. Kimball International's shares are down about 31 percent since its reorganization, and Washington Prime, which is based in Maryland, is off 14 percent.
The Edge's study, conducted with Deloitte LLP, found that shares in four of 10 spinoffs since 1999 were flat or declined in their first year. Osman, noting that another four in 10 generate returns of more than 20 percent within a year, said, "There's some gold in there. You've just got to find it."
No matter the risks, some investors are still gunning for breakups. Activist investor Nelson Peltz, who pressured the Allegion spinoff, has been in the news for months for targeting a reorganization of Delaware-based DuPont Co.'s seven business lines into three companies.
Early January media reports indicated Peltz is looking to add four directors of his choice to the board, setting the stage for a proxy fight after the company's managers have only partially obliged to Peltz's restructuring plans. The push comes even as DuPont outperformed the broader stock market the past few years.
Activist investor Carl Icahn also made headlines in 2014, most notably for suggesting that eBay Inc. spin off its PayPal unit. The company's directors initially rejected the push, but came around in September.
Icahn isn't finished. Early this month, he revealed plans to pressure Wisconsin-based Manitowoc Co. Inc. to split its crane and food-service-equipment units.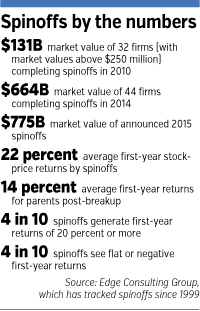 More spinoffs to come
PayPal is already geared up to launch from eBay this year. Palo Alto, California-based Hewlett Packard Co. said it would split into two publicly traded companies in 2015, with one focused on servers and software and the other on PCs and printers.
Closer to home, Gannett Co. Inc.—parent of The Indianapolis Star—and E.W. Scripps Co.—parent of WRTV-TV Channel 6—announced plans in 2014 to spin off their slow-growing newspaper divisions. And Merrillville-based utility NiSource Inc. anticipates spinning off its Columbia Pipeline Group Inc. into a stand-alone natural gas pipeline company based in Houston this year.
Comcast Cable Communications is another company with spinoff plans that have local implications. Last spring, it created a division called Greatland Connections Inc. that it intends to spin off sometime this year; Greatland would replace Comcast in Indianapolis and other Midwestern markets. The move is aimed at easing regulatory concerns in Comcast's proposed $45 billion acquisition of Time Warner Cable.
The Edge projects that 2015 will be the year Amazon.com Inc. spins off its Amazon Web Services segment and that tech giant EMC Corp. spins off its 80-percent stake in enterprise software company WMware Inc.
The Edge also thinks Indianapolis-based drugmaker Eli Lilly and Co. will join the fray.
"We have analyzed 1,600 companies around the world, and we've come up with 100 potential spinoffs," Osman said about Lilly and its animal health division, Elanco. "And they are coming through thick and fast."
If activists or other outside forces push for Lilly to spin off Elanco, there may be resistance. Elanco has been a bright spot for Lilly in its rough period of patent expirations and other woes, seeing 9-percent sales growth over the first nine months of 2014 while the company's overall revenue declined 16 percent.
And in early January, Lilly announced that it closed its $5.4 billion acquisition of Novartis Animal Health, making Elanco the second-largest animal health company. The largest such company is Zoetis Inc., based in Florham Park, New Jersey, which spun off from New York-based Pfizer Inc. in 2013.
In a recent statement related to 2015 earnings guidance, Lilly CEO John Lechleiter said: "We are successfully moving from a challenging period of patent expirations to a period of resumed growth, led by diabetes, oncology and animal health."•
Please enable JavaScript to view this content.