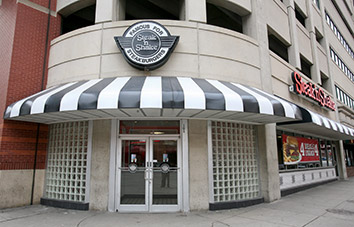 A Minneapolis-based investment firm that owns shares in Steak n Shake parent Biglari Holdings Inc. is offering to withdraw its slate of directors if Biglari's board adopts a list of reforms to improve corporate governance.
As IBJ reported early this month, Groveland Capital LLC is seeking to replace CEO Sardar Biglari and San Antonio-based Biglari Holdings' other five directors with its own slate of nominees at the company's annual meeting in April.
In a filing Thursday with the Securities and Exchange Commssion, Groveland said it will back off if the board:
— Eliminates a licensing agreement between the company and CEO Biglari, who seized control of Indianapolis-based Steak n Shake in 2008.
Several investor lawsuits have bashed the 2013 deal under which Sardar Biglari licensed the "Biglari" name to the company for 20 years. Biglari won't receive royalties if he remains atop the company, but if it were sold, or if he were forced out for anything but malfeasance, he'd receive 2.5 percent of sales for five years—a sum that could surpass $100 million.
The licensing agreement "is nothing more than a thinly hidden way for defendant Biglari to further entrench himself. … There was no apparent business purpose in naming the company after Biglari in the first place, other than to aggrandize defendant Biglari," a 2013 lawsuit says.
— Establishes a policy directing that Biglari's entire compensation package be approved by a board committee comprised of independent members who have no long-term affiliation with Biglari. Critics have said Biglari—who received compensation topping $10.9 million each of the last two fiscal years—is vastly overpaid.
— Restructures the board to include two members from Groveland, which currently has no representatives. Directors include Biglari's former professor at Trinity University in Texas and his attorney.
— Sells Biglari Holdings' ownership interests in the Lion Fund, a Sardar Biglari-controlled private investment fund. Critics say the ownership complicates Biglari Holdings' corporate structure and hinders transparency.
Sardar Biglari did not immediately respond to a request for comment Thursday afternoon. In its filing with the SEC, Groveland said making the changes "will save the company the time and expense of a proxy contest and allow management to focus on the day-to-day management of the company."
Groveland said in a previous notice filed with the SEC that its slate will include Groveland founder and CEO Nicholas Swenson, as well as Ryan Buckley, a director at the investment banking firm Livingstone Partners, and Jim Stryker, a 37-year restaurant industry veteran who formerly was chief financial officer of the Tennessee-based parent of the Perkins Restaurant & Bakery and Marie Callender's Restaurant & Bakery chains.
Groveland owns only about 3,000 of Biglari Holding's 2.06 million outstanding shares. The shares were trading for $424.95 each Thursday afternoon, up 1.2 percent on the day.
Besides Steak n Shake, Biglari Holdings also owns Maxim men's magazine, an insurance company, Western Sizzlin Restaurant and a big stake in Cracker Barrel Old Country Store Inc.
Please enable JavaScript to view this content.