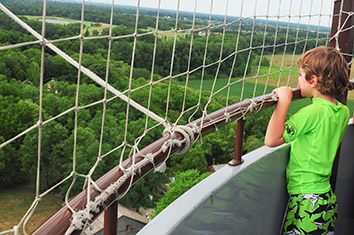 In the six years since Conner Prairie's 1859 Balloon Voyage launched, the orange-and-yellow tethered balloon has become a real-life map pin hovering above Fishers, marking a destination that draws more than 300,000 visitors a year.
So far, almost 91,500 of them also have ridden in a basket beneath the 140-foot helium balloon while it climbs as high as 377 feet, offering 360-degree views of the historic grounds and surrounding community. (Weather permitting, of course.)
But too few of the guests connected the high-flying attraction to the related exhibit, which tells the story of renowned balloonist John Wise's 1859 attempt to make the nation's first air mail delivery from Lafayette, Indiana, to New York City.

So while the balloon is out of commission this winter before getting a new skin and a new sponsor, construction crews are working on a six-figure overhaul intended to make the exhibit more immersive.
"A lot of the history wasn't hitting home," said Brian Mancuso, Conner Prairie's director of exhibits. "This wasn't pretend, 'Wizard of Oz' stuff. It was a real event. John Wise was a real pilot. Subtlety is going to get thrown out the window."
Inspired by Disney's Main Street USA, Mancuso's design replaces two-dimensional storefront facades with "indoor experiences" visitors encounter as they join the crowds gathering to watch Wise's air-mail excursion.
When the 1859 Balloon Voyage reopens in March, guests will start by entering the Lafayette post office, then continue through a dry-goods store, a pharmacy and a photography studio before exploring the gasworks used to inflate the balloon.
Along the way, they'll find activities, experiments and so-called "snoops"—the cabinets, desks and other hidey-holes inquiring minds long to investigate. A historic photo displayed in the photo studio, for example, might slide up to reveal the subject's future.
Outside, a new observation deck provides an unobstructed view of the balloon's ascent, and a hands-on area near the ride entrance will explain the technology that powers the modern balloon, built in France.
The FAA pilots at the helm are being trained as historic interpreters, so they can better set the scene during the ride.
"We're connecting history and science at a deeper level," Mancuso said.
Conner Prairie revamped its interdisciplinary "Create.Connect" area inside the Welcome Center last year with part of a $2.3 million National Science Foundation grant awarded to explore such mash-ups. Mancuso said lessons learned there are being applied to the 1859 Balloon Voyage.
To get the historical context right, museum staff has consulted with Tom Crouch, a senior aviation curator at the Smithsonian Institution's National Air and Space Museum. He is scheduled to speak at Conner Prairie's Jan. 28 annual meeting, when the new exhibit will be publicly announced.
Museum leaders also are set to reveal the new balloon sponsor: Reynolds Farm Equipment, another Hamilton County fixture. The family-owned business agreed to pay $75,000 annually for five years, enough to cover any difference between weather-dependent ride revenue and fixed operating expenses.
Reynolds' logo, a distinctive green R that morphs into a tractor, will adorn the new balloon "envelope"—the outer fabric that must be replaced every five to seven years. The Ricker's/BP-sponsored balloon was deflated last month.

Reynolds
Second-generation company President Gary Reynolds said the tethered balloon has become a community icon, and he wants to make sure it keeps flying.
In November, the Reynolds family made a $1 million unrestricted gift to Conner Prairie, payable over 10 years. Gary Reynolds said he hopes the $375,000 sponsorship will be in addition to that, but his priority is to meet the big obligation.
"I've always had a soft spot" for Conner Prairie, he said, reflecting on the days when the property was more farm than museum. Reynolds and his wife, Cindy, have been donors since the 1980s, and he joined the board in 2011.
Reynolds praised the institution's wholesome approach and broad appeal, saying his board service has made him aware of its potential to educate and entertain.
Conner Prairie has won national acclaim for its emphasis on experiential learning, but surveys showed visitors weren't engaged enough in the first balloon exhibit to grasp the historical context for the ticketed excursion.
"There was a disconnect," said Mancuso, the exhibit's director. "People didn't know if it was permanent or why it was here."
The new iteration attempts to eliminate those questions and answer others, he said, including how lighter-than-air flight is used today. Another frequent inquiry: How many party-size helium balloons would it take to lift a person?
Without clear ties to an organization's mission, museum rides are a risky proposition, said Mark Walhimer, managing partner of exhibition design firm Museum Planning LLC, which has offices in San Francisco, New York and Mexico City.
Although the increasingly competitive marketplace requires that attractions regularly update their offerings, he said it is easy to lose focus.
"The challenge is how to stay relevant and stay true to your mission," said Walhimer, whose work experience includes a stint at The Children's Museum of Indianapolis.
Conner Prairie's board-developed strategy calls for opening three more exhibits by 2019. CEO Ellen Rosenthal isn't ready to discuss details, but she said the new attractions—like the 1859 Balloon Voyage—will further the museum's efforts to inspire curiosity and foster learning about Indiana's past.•
Please enable JavaScript to view this content.