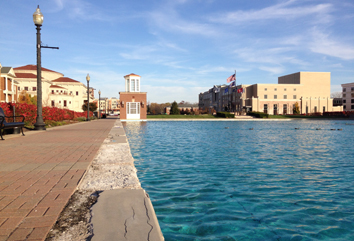 Relatively flush after settling a years-old lawsuit, the Carmel Redevelopment Commission on Friday OK'd a $463,500 contract to replace the deteriorating concrete coping around the so-called reflecting pool at Carmel City Center.
The cracking, chipped stone around the picturesque pond has been a hot topic in Carmel for years.
The redevelopment commission built the 84,000-square-foot water feature along Third Avenue SW more than a decade ago, but a contractor error caused the concrete to crumble.
Executive Director Corrie Meyer told commissioners Friday that by the time the problem surfaced, the contractor had gone bankrupt.
"We had a bad concrete pour," she said.
In 2013, the then-cash-strapped CRC accepted bids to handle repairs, but a contract was not awarded following the fall departure of longtime Executive Director Les Olds. The commission also did not follow through on plans to buy $200,000 worth of granite to replace the coping.
Last month, the City Council voted 6-1 to deny a Street Department request for $613,000 in emergency funding to pay for the repairs. Although the CRC paid to build the pool, the city maintains it.
At the time, council finance committee Chairwoman Luci Snyder said the CRC could afford to pay for the project, given the November resolution of multimillion-dollar litigation tied to construction of the Palladium concert hall.
Meyer said the panel included $1 million in its 2015 budget for capital improvements, including the reflecting pool repairs. Other projects on its to-do list include finishing the Palladium landscaping and transforming the courtyard at Sophia Square on Main Street into programmable park space.
Smock Fansler Corp., one of the original two bidders, agreed to replace the reflecting pool coping with Mount Airy granite—a more affordable version of the sturdy stone—at the same price it quoted in 2013. It also will install a drain to handle runoff, Meyer said.
The contractor also has recommended perforating the sub-slab every two feet or so to allow water to reach the underdrain, which could add $13,000 to the tab, and will investigate a simplified installation process that could lower the cost by almost $22,000.
Please enable JavaScript to view this content.