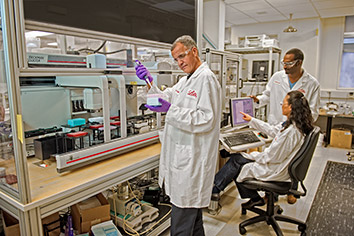 Novartis AG is racing to establish itself in the market for new treatments for psoriasis ahead of an anticipated price war with Amgen Inc. and Eli Lilly and Co. in the United States, as payers of prescription bills play the drugmakers off of each other.
To lock in patients and doctors as customers, Novartis plans to introduce its Cosentyx at a price similar to Johnson & Johnson's Stelara, the current standard treatment, said David Epstein, head of Novartis's pharmaceuticals division. Future price rises for the therapy are unlikely, he said.
Stelara costs $7,661 per injection for patients weighing under 220 pounds, Johnson & Johnson says. The recommended course of treatment is one injection four weeks after the initial injection, followed by one every 12 weeks after that—or $45,966 for six doses in the initial year.
Pharmaceutical benefit managers, who negotiate drug prices for health plans, have been wringing discounts from drugmakers such as Gilead Sciences Inc. and AbbVie Inc., the makers of competing treatments for hepatitis C. While Novartis has the IL-17 market to itself for now, the company expects similar treatment once its rivals catch up, Epstein said Tuesday in an interview at the company's headquarters in Basel, Switzerland.
Novartis last week won U.S. approval for Cosentyx, the first in a new class of drugs called IL-17 inhibitors to treat the disfiguring skin disease.
Indianapolis-based Lilly has said it plans to submit its drug for approval in the first half of this year, while Amgen and its partner AstraZeneca Plc said they also plan to file this year.
More leverage
"When Amgen launches and Lilly launches, assuming they do, that will give payers more leverage to negotiate price discounts, and I think that's exactly what's going to happen," Epstein said. "Hopefully in the time between now and then, we will have established a physician community and a patient community that likes our product. We will then fight with them for market share, even if there's pricing pressure."
Amgen "can't speculate on future pricing" for its psoriasis drug, brodalumab, said spokeswoman Eva Groves in an e-mail. Lilly also declined to comment on what its drug would cost.
"The idea of price increases in most of the world is over anyway," Epstein said. "In Europe I seldom if ever get a price increase. Even in the U.S. market, once there's direct competitors it will certainly become more challenging to take price increases."
Still, there'll be plenty of patients to go around, Epstein said. The markets for psoriasis and two other diseases in which Novartis is seeking approval for Cosentyx add up to $10 billion, and are growing at about 22 percent a year, he said.
Bigger sales
Cosentyx, also known as secukinumab, may garner sales of $1.06 billion by 2019, according to the average of nine analysts' estimates compiled by Bloomberg. Lilly's ixekizumab may reap $558 million in the same year, while Amgen's and Astra's brodalumab may get $432 million for AstraZeneca and $291 million for Amgen, the estimates show.
About 7.5 million Americans have psoriasis, which is an autoimmune disease that can cause raised, red patches on the skin that are covered in dead skin cells, according to the National Psoriasis Foundation. The new type of drugs, called interleukin inhibitors, block interaction with the IL-17A receptor, which triggers the inflammatory response that plays a role in the disease, according to the U.S. Food and Drug Administration.
Please enable JavaScript to view this content.