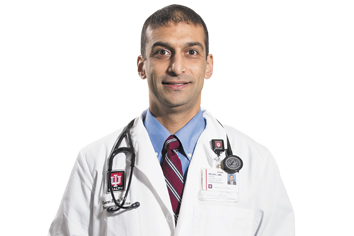 chief medical officer, Indiana University Health Saxony Hospital
Into the fire: Gaurav Arora gained experience in emergency room medicine—and served as sideline physician for the Indianapolis Colts and in-field physician for drivers and crowds at the Indianapolis Motor Speedway—before becoming chief emergency medicine resident at Indiana University Health Methodist Hospital, a trauma center that sees nearly 100,000 emergency room visits a year.
Rising star: At 28, armed with degrees in economics (from Case Western Reserve University) and medicine (from University of Toledo's Medical College of Ohio), he was named medical director of Henry County Hospital's emergency department. "The biggest surprise was the amount of work it takes," he said. "I had never had administrative responsibility. It takes constant effort and work to keep things going."
Career building: With IU Health Saxony under construction in Fishers, Arora was then selected as medical director and served from the day the hospital opened. Seeing the administrative road ahead, he started on his MBA at IU's Kelley School of Business, graduating top of his class. "That only works," he said, "when you have a supportive family. With stability at home and significant help from my wife, I was able to manage the job in the day and business school at night." Halfway through the program, he was elevated to Saxony's chief medical officer.
AGE 39
Hometown:
Akron, Ohio
Family: wife, Rebecca; children Anya, 11; Ava, 10; Asha, 8
From the ground up: Taking over as chief medical officer for both Saxony and IU Health Tipton Hospital, Arora assumed responsibility for recruitment and retention, contract negotiation, strategic planning, operations, quality improvement, safety and accreditation preparation. His achievements include leading the hospitals in becoming Society of Cardiovascular Patient Care-accredited Chest Pain Centers. Being at Saxony from the beginning, he said, was an advantage. "Institutions come with lots of history. This was a chance to shape something in a manner that's best for its future. It was about setting up the processes the right way to begin with rather than fixing them. It's something most health care leaders don't get a chance to experience."
The future of health care: A former president of the Indiana Chapter of the American College of Emergency Physicians, Arora said, "The health care industry is a fascinating one to be involved in right now. With so much change, it's a little scary but also exciting. It's an opportunity to shape hospital systems for the future."•
Please enable JavaScript to view this content.