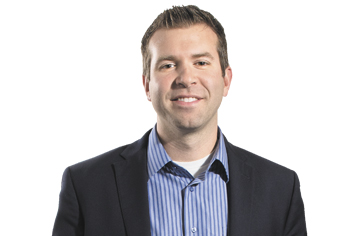 chief financial officer, Mainstreet
FBI MIA: Originally hoping to join the FBI, Adlai Chester double-majored in accounting and criminal justice at Indiana University. After transferring for financial reasons to Ball State University, he landed an internship at PricewaterhouseCoopers and dropped criminal justice. A series of jobs led to a controller position—then CFO—at Rutter Communications.
Adopting to new circumstances: After a failed adoption that involved fraud ("Not by us," Chester clarified), he and his wife resigned themselves to supporting two girls in Uganda from a distance. Ultimately, though, the girls were able to come to the United States, and he and his wife adopted them. "It was five years of uncertainty," he said. "One thing it taught me was focus."
CFO mojo: In the midst of the adoption challenges, Mainstreet—which had outsourced its CFO role—was looking to bring someone in-house. "I said I was flattered by the offer," Chester recalled, "but I didn't think I could give it that time it needed." Two days later, the boss said he wouldn't take no for an answer.
AGE 34
Hometown:
born in Monticello, but raised in Centerville from junior high on
Family: wife, Amanda; children Amelia, 11; Addie, 10; Avery, 9; Abby, 9; Asher, 3; Abram, 2
Double-major job: Chester serves as CFO for both Mainstreet—the nation's largest developer of post-acute health care properties—and was CFO of HealthLease Properties REIT (Mainstreet's public portfolio) prior to its being sold by Mainstreet. Under his financial guidance, the initial public offering for HealthLease raised $107 million, and Mainstreet's portfolio of $100 million in properties grew to more than $1 billion.
SOLD! In August, Mainstreet agreed to sell its real estate investment trust and partner with the buyer in a deal worth over $2.3 billion. "It sometimes takes a decade to become an overnight success," he said. "A lot of effort has been put in working toward this."
Those who can improve, teach: Chester taught at Ball State—cost accounting and financial statement analysis—in part to get better at public speaking. "It's energizing to be involved with college kids," he said. "They kept me very sharp." A self-described tough grader, he remains on the Ball State Accounting Department Advisory Committee.
Secrets of success: "It's too easy to think you have it figured out," he said, "but that's the time you set yourself up for failure. We can't be naïve enough to think we are smarter than everyone else. We have to make sure we are in the front edge of changes in the industry and in the broader capital markets. If we don't, that's when we tank."•
Please enable JavaScript to view this content.