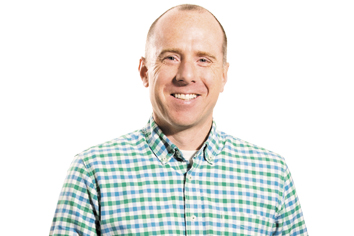 research scientist, Dow AgroSciences
Digging chickpeas: Studying biology in his native Australia—with doctorate studies on chickpeas at the Royal Melbourne Institute of Technology University—Tristan Coram cast his employment net wide enough to include the United States. "I didn't have kids. I was pretty flexible," he said. "It's common to get experience outside of home, to bounce around, and maybe come back." It helped that his wife could secure work in property management just about anywhere.
Wheat and see: Coram didn't boomerang back to Australia. Instead, he landed a post-doc invitation to Washington State University. He rushed to get his visa and pack four suitcases to move to Pullman, Washington. "It wasn't what you'd imagine Washington to be," he said of the town near the Idaho border, "but we ended up loving it there." U.S. Department of Agriculture work at North Carolina State in Raleigh, North Carolina, lured him away but, unhappy there, he opened his eyes again. Coming to Indy to give a presentation and do an interview at Dow AgroSciences, he was offered a job. "No one really told me what the job was supposed to be," he said. "It might have been nice to know."
The unspoken job: Coram's work at Dow Agro involves developing traits in global crops that increase production. Quickly taking on group leadership responsibilities, he was honored in 2011 with the Flashpoint Award for Outstanding Professional Development at Dow AgroSciences.
The write stuff: With more than 24 journal articles published, multiple speaking appearances at conferences (including being awarded a best presentation award at the national Wheat Genomics Conference), and a stint as invited associate editor for the Journal of Plant Pathology, Coram was invited to lead a group of delegates to Beijing for the International Students Forum. There, he also gave presentations to local farmers on potential solutions to agricultural challenges.
AGE 34
Hometown:
Melbourne, Australia
Family: wife, Kate; children Oliver, 3; Hamish, 1
Hungering for answers: Among his most impactful—and satisfying—work has been taking the lead in Hunger Solutions Network, a volunteer program sponsored by Dow Agro to develop strategies for employees to enhance global food security. Through that program, Coram has led projects that include a visiting scientist program and the African Orphan Crops Consortium, which focuses on the genomes of 100 crucial African food crops that are less researched because they aren't traded internationally.•
Please enable JavaScript to view this content.