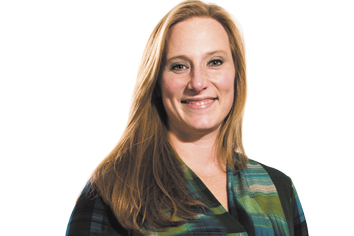 director, Christel DeHaan Family Foundation
The foundation's foundation: Established after its namesake sold Resort Condominiums InternationaI, Christel DeHaan Family Foundation focuses its giving on the arts in Indianapolis. "Arts aren't just a nice thing to have," said its director, Melynne Klaus. "They're a need to have a quality of life."
Adding up: In 2012 (the most recent year available), Klaus oversaw $43 million in assets, and 136 grants totaling nearly $2 million to support Indianapolis organizations. Klaus said she's proud of every grant the foundation gives, including the interim funds that helped transform the American Cabaret Theatre into the Cabaret at the Columbia Club ("Those were tricky times. Where it is today is extraordinary.") and ongoing support of Butler University's Visiting International Theatre Artist program (which, she noted, fosters "a deep and transformative learning relationship where real learning can happen").
Saying "no": For every request granted, more are not. "There are so many passionate people working very hard to make a difference," acknowledged Klaus. "Unfortunately, we do have to make very tough decisions. I'm thankful that we have such a strong vision. I do my best to articulate that and make suggestions or provide informed recommendations."
AGE 37
Hometown:
born in Florida but "grew up all over the East Coast," including high school in Dillsburg, Pennsylvania
Family: husband, David; children Carter, 7; Elise, 5; Kendall, 3
Moving experiences: Klaus moved to Indiana to attend a master's program in Indiana University's School of Public and Environmental Affairs and in what is now the Lilly Family School of Philanthropy. She volunteered at Christel House and worked there as a grad student. After school, she became a development officer for the Women's Fund of Central Indiana at the Central Indiana Community Foundation and then returned to work for Christel DeHaan, this time at the DeHaan Family Foundation.
Job flexibility: Since the birth of her first child, Klaus has spent three days a week working for the foundation. "I know I'm really lucky," she said. "We have the capability of managing work flow in ways that not all entities can."
Representing: "I'm just an ordinary person given a very extraordinary opportunity to represent Christel and the board," Klaus said. "Her desire to give back and really make a dif-ference and use her resources to contribute to Indianapolis and around the world is extraordinary. I'm honored to be in this role."•
Please enable JavaScript to view this content.