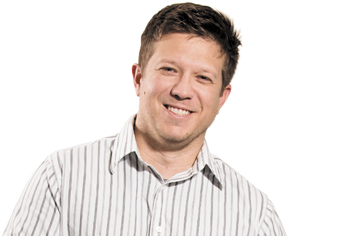 general manager, Klipsch Music Center and The Lawn at White River State Park
Behind the scenes: A few of the things Klipsch Music Center General Manager Andrew Newport supervises so you can relax and enjoy a Dave Matthews concert: traffic planning, working with police, recruiting, hiring and retaining staff, schmoozing with sponsors, accommodating VIPs, dealing with the talent quirks, developing social and traditional media, managing expenses, and anticipating buying behavior.
His own drummer: A percussionist (he still plays with the band Borrow Tomorrow), Newport worked in the Klipsch Music Center security department while in college. By the time he graduated, he took over as operations manager. At age 29, he was already general manager.
Could be a lot worse: "Any job comes with headaches," Newport said. "This one is no different. But I've been coming to the same office for 16 years and there's not a day where I felt like I had to go to work. We put on concerts for a living. When you take a step back, it's tough to complain about that"—especially when Newport can bring his English bulldog, Gracie, to work.
AGE 33
Hometown:
Muncie
Family: Family: wife, Amy; children Will, 5; Ben, 3; and a third on the way in July
Customer focused: "People spend a lot of money to see their favorite band and escape from whatever they deal with on a daily basis. We take that very seriously, appreciate that, and want them to feel like they got their money's worth." Even though shows are put on for only about six months, his is definitely a year-round job. "We spend the off-season scrutinizing what we do well and what we can do better to make sure we are delivering the best product."
Band of brothers: Both of his sons were summer births. One arrived between a Ray Lamontagne performance and a concert by the Black Keys. The other showed up just before a Phish show.
What you really want to know: Can he get you tickets? "When I was younger, I used to really like being that guy," he said. "Ultimately, the thing I had to learn coming through the ranks was, this is not show friends; this is show business." Now he says, "I would love to help. Send me your credit card number." The response: "In many cases," Newport said, "you never hear from those people again."•
Please enable JavaScript to view this content.