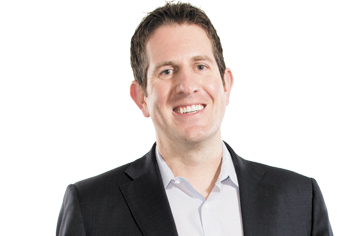 managing director of wealth management, Payne & Mencias Group, Merrill Lynch
Backward and forward: With an accounting degree from Butler University, Eric Payne went right to work as a CPA with Ernst & Young. "In an audit, you look at last year's financials and don't really get to give much advice on the future," he said. "I found myself talking to executives and business owners about personal tax situations and that led to my transition to wealth management." His strong tax background served him well once he jumped to Merrill Lynch.
Asset ascension: Named to Barron's Top 1,000 Financial Advisors in the U.S. for six consecutive years (including second in the state), Payne and his group now manage $1.7 billion for 200 families. His average client has $5 million to $10 million in investable assets. "It's not what you earn," Payne stressed, "it's what you keep."
AGE 38
Hometown:
Chicago
Family: wife, Leah; children Colin, 8; London, 6; Aven, 4; Griffin, 4
Youth power: At 38, Payne is about 20 years younger than the average financial adviser—old enough to have a track record but young enough for his clients to trust he'll be around until their retirement. "When I started out, I felt I needed to apologize for being young. Now, that's become something very valuable to people."
Magic number: Why 200 clients? "We want to under-promise and over-deliver," Payne said. "We want to give a white-glove experience, and you can't do that with too many people." In bringing on new clients, he said, the right fit is key. "We interview them as much as they interview us."
Names withheld: While some are high-profile folks (whose names he wouldn't disclose for privacy reasons), he stresses that his clients "are all important to me and I treat them the same way. Their needs and goals are unique. No one ever gets put in a box." One such unique element: A younger athlete may have the risk profile of someone 65 years old. An older person doesn't "have 40 years of a working life to make it grow for them," Payne said.
Investing in experience: Payne helped guide Carmel's Center for the Performing Arts in its formative years and is currently vice chairman. A member of the Great American Songbook Foundation board, Payne is also a major donor and supporter of Riley Children's Foundation, Camp Riley and the Make-a-Wish Foundation. Other than spending time with their own kids, he and his wife like to head to wine country for relaxation.•
 
Please enable JavaScript to view this content.