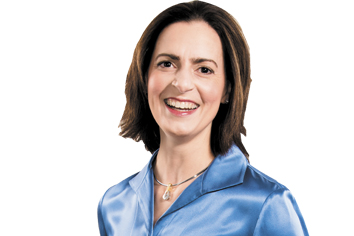 general counsel and corporation secretary, Wabash National Corp.
Keep on truckin': "I'm one of those kids who thought of what I wanted to be early on and it came true," said Erin Roth, who parlayed a Butler University accounting degree and a Georgetown University Law Center law degree into an associate position with Barnes & Thornburg, then to heading the legal side of Wabash National Corp. Known for its trucking products including vans and tanker trailers, Wabash also manufactures equipment for containing sensitive medical and chemical materials, as well as clean rooms and silos. And Roth has helped lead major acquisitions that diversified Wabash into what is now a $2 billion company.
Wheeling in the years: Roth's team is responsible for coordinating legal activities for the company, including Securities and Exchange Commission filings, compliance with government regulations, defending the company in litigation, and protecting intellectual property. And it's no problem that she never had much of an interest in trucks. "To me," she said, "what's interesting are the decisions you make within a business, not just the business itself. What are the decisions that go into how you run [this] business in the Midwest? I think [manufacturing] is the heart of this country and we're kidding ourselves if we don't think it's important that we manufacture here."

AGE 39
Hometown:
an unincorporated area near Dayton, Ohio
Family: husband, Peter Rusthoven; children Maddie, 1; Elise, 1; four stepchildren

Keep on trackin': A heptathlete, Roth blew her knee out while running for Butler. "It solidified that, for my well-being, I would always have to have something active besides school. If I didn't, I would lose life balance and not feel healthy." No matter how busy, she still works out regularly.
Court that appeals: A longtime fifth- and sixth-grade basketball coach, Roth believes in influencing girls while they're young. "The more you can be a positive influence, especially at that age, the better the likelihood that they will make it through with self-confidence and a strong self-image." She has also served on Butler's board of visitors for the College of Business and the finance committee for St. Monica Catholic Church. "I want to add value," she said of service requests. "If I can't, I turn them down and suggest others."•
Please enable JavaScript to view this content.