Like most established health care companies, Tx:Team has been challenged by health care reform.

But now it looks as though reform is breaking in exactly the right direction for the Indianapolis-based provider of physical and occupational therapy.

That's because Tx:Team has run its business by sending its therapists to wherever patients are—rather than wooing them into its own facilities.

Benedict
Now, financial pressures from Obamacare and cash-strapped employers are pushing all health care providers to do the same.

"We make a living by optimizing resources, putting the right resources in the right place," said Tx:Team CEO Scott Benedict, noting that it can save hospital systems 20 percent or more versus having in-house therapy staff.

Tx:Team's therapists operate as the staff inside hospitals, outpatient clinics, skilled-nursing facilities and even patients' homes. And in the past five years, Tx:Team has started providing therapy where its patients work—at the health clinics their employers have been opening.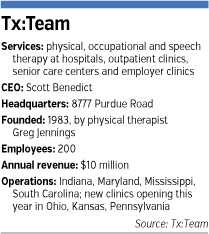 That last strategy is spurring the 200-employee company to expand into several new markets and is fueling revenue growth. Tx:Team will open operations at employer clinics in Ohio, Kansas and Pennsylvania by the end of March. It expects to move into two more states in 2016.

Already, Tx:Team operates in Maryland, Mississippi and South Carolina, as well as in Indiana, serving employers, hospital systems and senior care facilities.

The company expects that expansion to add modestly to its $10 million annual revenue—because it takes time for workers at employer clinics to start making it their go-to place for services like therapy.

But with more than 170 employer clinics around Indiana, which has been a leader in that concept, and more popping up around the country, Tx:Team thinks it can ride this wave for some time to come.

Tx:Team already provides therapy services at clinics operated at Indianapolis-based software firm Apparatus; at Bosma Enterprises, which employs blind workers in manufacturing, printing, packing and warehousing operations; and at two clinics operated by Batesville-based funeral-products maker Hillenbrand Inc.

"It seems like, right now, the most significant growth is in the employer-based setting," said Benedict, who became Tx:Team's CEO on Jan. 1, taking over from Greg Jennings, a physical therapist who founded the firm in the early 1980s. He and Tx:Team Chief Operating Officer Carroll Nelligan also became part-owners.

Nelligan
Benedict and Nelligan both noted that therapy can be a much lower-cost way to treat health problems than surgery.

Health insurers have agreed and, in recent years, even have required courses of physical therapy before they will pay for a surgery.

Health insurers, including the federal Medicare program for seniors, also have created new financial rewards that encourage hospitals to shorten the number of days patients stay in hospitals—which can pinch the time available for physical therapy.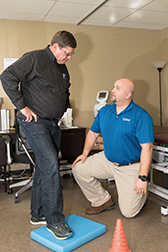 Tx:Team therapist Dustin Hardin works with employee Scott Lutocka at Bosma Enterprises' health clinic. (IBJ photo/Eric Learned)
That, along with advances in minimally invasive surgery techniques, has moved more therapy to outpatient centers, nursing homes and patients' homes.

Dhan Shapurji, an Indianapolis-based health care consultant for Deloitte, even predicted virtual therapy visits as part of a regimen for a patient's recovery.

"It's not that any of those are going away; it's just that you're going to have more options," Shapurji said. "So the physical therapy has to follow wherever the patient is."

Indeed, Tx:Team continues to serve as the physical therapy department at St. Vincent Frankfort Hospital. And the administrator there, Tom Crawford, said he has no intention of changing that rather unusual relationship.

"It's been the most outstanding arrangement I've ever had, in 30 years in health care," Crawford said. "They've helped us build our physical therapy business."

In the decade since Tx:Team started working for St. Vincent Frankfort, the hospital's market share for physical therapy services in surrounding Clinton County has more than doubled and now stands at 90 percent, Crawford said.

He expects most physical therapy to still happen on the hospital's campus—which in a small city like Frankfort, has ease of access that's more like a suburban strip mall—with a food court to boot.

But Shapurji, the Deloitte consultant, said therapists that can serve a patient across all those settings will be in the best position to attract customers and to be able to document the outcomes hospital systems and health insurers are looking for.

"Absolutely, we're pushing [patients] out of the inpatient setting, but we're picking them up in the outpatient setting," Benedict said.•