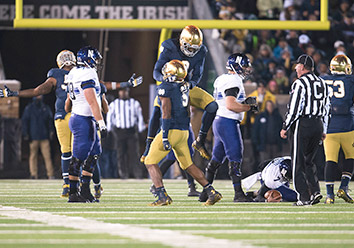 University of Notre Dame Athletic Director Jack Swarbrick appears ready to open a can of worms.
In recent interviews with IBJ, Swarbrick said he'd be willing to consider a model that allows student-athletes to profit from certain activities away from the field.
"I'd be willing to have that conversation," he said.

Swarbrick
Swarbrick repeated—and expounded upon—that sentiment in a public forum in December. The key, Swarbrick said, is treating student-athletes like any other student.
"You have to ask yourself why the music student can go downtown and perform on Friday night and make whatever he wants, and the athlete is limited on that," Swarbrick said at the IMG Intercollegiate Athletics Forum in New York.
His public comments didn't likely make Swarbrick many friends at the NCAA headquarters in downtown Indianapolis. NCAA President Mark Emmert has said on numerous occasions that he opposes such notions, saying it would lead to the erosion of amateurism in college athletics. An NCAA representative declined to comment to IBJ, saying the organization would "defer to our members" to talk about their positions.
Swarbrick, an Indianapolis attorney for nearly three decades before becoming Notre Dame's AD in 2008, said new ways of thinking are needed to wrestle with the challenges college athletic departments face.
"Conventional thinking in these areas is not going to get us where we need to be," he said at the Intercollegiate Athletics Forum, where he was one of 20 college athletic directors to speak.
As the athletic director of one of the most well-known and powerful universities, Swarbrick wields considerable clout. And his stance—that he's open to a model where athletes could benefit financially beyond the cost of a scholarship and school-supplied stipend—is at odds with the views of many in the association, including a good number of athletic directors.
Conflicting views

Burke
Purdue University Athletic Director Morgan Burke said he respects Swarbrick and his opinions. But he sharply disagrees.
Like Swarbrick, Burke is an attorney with deep roots in the business community. Before joining Purdue in 1993, he spent 18 years with Inland Steel Co., eventually becoming vice president.
"To me, there's a point of separation between the professional model and the collegiate model," said Burke, who has the fourth-longest tenure among current athletic directors at FBS schools and is serving as president of the Division 1A Athletic Directors Association. "For the few athletes that can benefit from selling their likeness and making appearances and things like that, they're probably good enough to go pro, and maybe they should."
As to why there needs to be such separation, Burke said, "We are still, first and foremost, about education."
The NCAA recently altered its regulations so that member institutions can offer student-athletes the full cost of attending college—which includes a stipend for incidental spending.
Burke pointed out that many of Purdue's athletes attend school for five years and the value of that education for an out-of-state student is $250,000.
"There's real value in these scholarships. We've taken it as far as I'm comfortable, given the discussions we've had," Burke said.
He doesn't think there's much momentum among athletic directors and school administrators for opening up more commercial opportunities for student-athletes.
"I haven't taken a poll, but from what I've heard, I would think most athletic directors would be on my side," Burke said.
Surprising ally?

Collier
Swarbrick might find an unlikely ally in Barry Collier, athletic director of Butler University, which has fewer than 5,000 students. Big and small schools—which have vastly disparate resources—often have differed on the business aspects of college athletics.
While Collier does not think "the college model needs to be overhauled," he said athletic directors and school administrators need to be open to change.
When asked about student-athletes being able to profit from things like their likeness and endorsements, Collier said, "I would come down on the side of being more permissive than restrictive."
"I think each opportunity should be considered in the framework of how can we do this rather than how can we not do this," he said.
When asked for an example of something student-athletes should be allowed to be paid for, he offered up a tennis player giving tennis lessons.
Swarbrick has an even stronger supporter in The Drake Group, a Connecticut-based not-for-profit that bills itself as a watchdog for academic integrity in big-time college sports.
"We have no difficulty with college athletes making money from their talents as long as it's only on their own celebrity and the use of their own name," said Gerald Gurney, president of Drake Group and a professor of adult and higher education at the University of Oklahoma. "After all, we have college coaches doing the same thing."
Gurney, a past president of the National Association of Academic Advisers for Athletics and the former senior associate athletic director for academics at Oklahoma, said an athletic director with Swarbrick's stature taking this stance "is moving the ball forward in a serious way on this topic."
"Jack Swarbrick is absolutely correct," said Gurney, who spent 30 years working in college athletics. "In our view, the NCAA is a classic cartel, and it restricts the labor force. All students should be allowed to make a living off their talents."
There are signs that the thinking on such issues is evolving within the NCAA's inner circle.
Oliver Luck, who recently left his job as West Virginia University athletics director to become the NCAA's executive vice president of regulatory affairs, said after his hiring that college players have a "fundamental right" to be compensated for the use of their names, images or likenesses.
Of course, that's a big step from allowing current college athletes to seek their own marketing and sponsorship deals. Not even Collier is comfortable with that idea—not yet, anyway.
NCAA legal battles
The NCAA is battling several lawsuits regarding compensation of student-athletes. The most famous is O'Bannon vs. NCAA, a class action lawsuit that could cost the NCAA billions of dollars, sports business experts said.
In 2009, former UCLA basketball star Ed O'Bannon filed a lawsuit on behalf of the NCAA's Division I football and men's basketball players, challenging the NCAA's use of the images of its student-athletes for commercial purposes, such as in video games.
Emmert argues that paying NCAA athletes for use of their likenesses would be a violation of the association's concept of amateurism in sports.
Last August, District Judge Claudia Wilken found for O'Bannon, concluding the NCAA's rules and bylaws operate as an unreasonable restraint of trade, in violation of antitrust law.
Although Wilken's ruling could enable football and men's basketball players to receive more from schools than they get now, Wilken imposed limits and rejected the plaintiffs' proposal that athletes be allowed to receive money for endorsements.
"Allowing student-athletes to endorse commercial products would undermine the efforts of both the NCAA and its member schools to protect against the 'commercial exploitation' of student-athletes," Wilken wrote.
Despite that stipulation, the NCAA is appealing Wilken's ruling.
There's no doubt many student-athletes are in Swarbrick's corner.
In the case of Jenkins vs. NCAA, a group of student-athletes led by Clemson football player Martin Jenkins and represented by well-known sports labor attorney Jeffrey Kessler are suing the NCAA and the five biggest conferences, and seeking an injunction to allow a free market. The plaintiffs want to end NCAA rules that "prohibit, cap or otherwise limit remuneration and benefits" for student-athletes.
"I'm convinced the NCAA is going to lose these court cases," Gurney said. "And if they do, it will fundamentally change their business model. I think more-forward-thinking people like [Swarbrick] understand this."•
Please enable JavaScript to view this content.