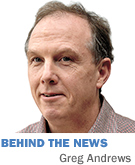 Aug. 9, 2000, is seared in the memories of longtime Eli Lilly and Co. executives. That was the day a federal appeals court invalidated patent protection for the blockbuster antidepressant Prozac—a surprise ruling that sent the company's shares down $31 in a matter of hours.

The day before, Lilly shares had reached an all-time high of $108. The unfavorable ruling was one of many setbacks that sent the shares on a prolonged slide, with the stock bottoming out at $29 at the depths of the financial crisis in 2008.

The job of turning things around fell to longtime Lilly executive John Lechleiter, whose immediate task upon taking the helm as CEO that year was to brace the company for a devastating barrage of patent expirations at the same time Lilly's labs raced to bring new drugs to market.

Now is a less-painful time to relive those lowlights because Lilly shares have surged back, climbing 45 percent since October 2013, to above $70. The stock hasn't traded in this range for 11 years.

And analysts, many of whom questioned whether Lilly could withstand the challenges without giving up its independence and finding a merger partner, now say the company appears to have turned the corner, thanks to a pipeline flush with promising products.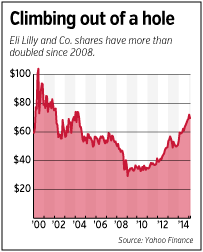 Management "has done a nice job getting through the difficult patent expiry period, and it appears that Lilly now has a good opportunity to put up low-to-mid teens EPS [growth] over the next 5 years, which should be near the best in the sector," UBS analyst Marc Goodman said in a Jan. 31 report.

Bernstein analyst Tim Anderson said in a report that Lilly had been one of the "most controversial" stocks in the pharmaceutical industry, but "there has been a slow shift toward sentiment becoming more positive." He said the company "is a pipeline-driven return to growth story which is attractive."

Back in the dark days of 2010, as Lechleiter looked forward through 2014, four blockbusters—the cancer drug Gemzar, the schizophrenia treatment Zyprexa, the anti-depressant Cymbalta and the osteoporosis medicine Evista—were set to lose patent protection, opening the door to a flood of generic competition. Together, the four had generated $10.4 billion of Lilly's $21.8 billion in 2009 sales.

Some saw Lilly's go-it-alone strategy as foolhardy. "It's a very strange position they're taking, considering what they're facing," Standard & Poor's analyst Herman Saftlas told Reuters in 2010. "They have to do something, or the patent cliff will kill them."


Lechleiter
Throughout the tumult, Lechleiter and Chief Financial Officer Derica Rice were a calming influence on jittery investors—expressing confidence but not overpromising, while also aggressively cutting costs and pledging they wouldn't cut Lilly's rich, 49-cents-per-quarter dividend.

In a Jan. 31 conference call with analysts, Rice said, "Over the past five years, we delivered on our financial commitment, we advanced our pipeline, and we built what we believe is a sustainable R&D engine."

To be sure, challenges still lie ahead, which inevitably will lead to setbacks. But analysts are optimistic Lilly will continue to benefit from its growing animal health business—bulked up with the recently completed, $5.4 billion purchase of Novartis Animal Health—plus launches of new human drugs. Company officials say the first wave of drug launches is in diabetes, oncology and immunology, and the second will be in cardiovascular disease, pain and Alzheimer's.

Alzheimer's is perhaps the biggest wild card, with a high chance of failure but also the potential for a huge payoff if compounds under study reach market.

The good news is that, because of all the uncertainty, analysts generally have not baked an Alzheimer's breakthrough into their numbers. They say success on that front could lead to even more robust growth.

J.P. Morgan forecasts that Lilly's total sales, which topped out at $23.3 billion in 2011 and slipped to a seven-year low of $19.6 billion in 2014, will inch up this year and reach $25.6 billion in 2020.

Lechleiter, while focused on churning out strong results for the rest of this decade, also is thinking longer term—in part to ensure Lilly's pipeline doesn't hit another dry spell, leaving the company vulnerable to tumbling over another patent cliff.

"We've paid particular attention to putting the company in a position where we do not have to go through the boom and bust cycle that's characterized the last 10 years," he told analysts.•