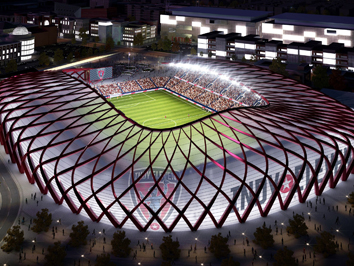 Editor's note: This is a substantially revised version of IBJ's story that originally ran on Feb. 16.
A bill that would provide state and local tax revenue for a downtown soccer stadium sailed through the House Ways and Means Committee on Monday.
The author, Rep. Todd Huston, R-Fishers, reassured committee members that the state would not be on the hook for $82.5 million in stadium bonds.
"That will be up to the city to negotiate," he said. "I don't know if it will be the team. It could be the city."
The committee voted 20-3 in favor of the bill, though several members, both Democrat and Republican, cast their "yes" vote saying they reserved the right to change it on the House floor.
It's unclear whether the stadium, requested by minor-league soccer team Indy Eleven, will generate enough tax revenue through the Professional Sports Development Area to cover its debt. A Legislative Services Agency analysis of a previous version of the bill found that ticket-tax revenue alone would not be enough to cover projected debt-service payments, which according to a team projection would range from $1.3 million to more than $5 million.
Unlike last year's proposal, which didn't advance, HB 1273 does not cap the state or local revenue that could be collected.
Under the amended version of the bill, however, the stadium would capture ticket taxes on top of state sales and income taxes. In addition, language was added so that a new downtown hotel, developed by soccer team owner Ersal Ozdemir in the Illinois Building, would be included in the PSDA, and could generate tax revenue to support the stadium bonds.
IUPUI's Michael Carroll Stadium, IndyEleven's current home, also would be added to the PSDA. That would allow the team's current activity to generate tax revenue to back any bonds.
Indy Eleven's projections, contained in a pro forma submitted to the committee, show $1.37 million in local ticket taxes and $618,000 in state sales tax collected in 2018, the first year the stadium is assumed to be open. Those would be the two largest sources of tax revenue.
Those revenue sources would grow to $3 million in ticket taxes and $1.2 million in sales tax after 10 years, by 2027, according to the team's projection.
In addition, the stadium would capture food and beverage tax, state income taxes and county income taxes.
Total stadium-related tax collections are projected to go from $2.3 million in 2018 to $4.9 million by 2028.
The pro forma assumes an average ticket price of $29.50 and an average paid attendance of 16,500. The team also said it expects the stadium to house a women's pro team.
In addition to the state and local taxes, the financing assumes a $9.9 million cash contribution.
Indy Eleven accounting consultant Chris Johnston of KSM Consulting said it's not clear yet whether the team or the city would provide the cash.
Indianapolis Deputy Mayor Adam Collins spoke in favor of the bill and said he's working with the team on a potential deal.
The bill sets July 1, 2016, as a deadline for Marion County to approve a stadium.
Republican Rep. Bob Cherry of Greenfield predicted that another community in central Indiana would jump at the chance to host a stadium if Marion County doesn't.
Indy Eleven still has not named a preferred site for the stadium.
Please enable JavaScript to view this content.