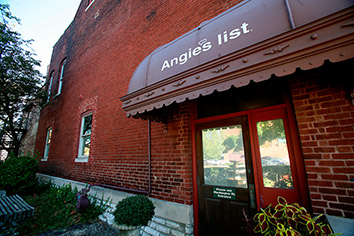 Angie's List Inc. on Wednesday morning reported a $15.3 million fourth quarter profit, capping what CEO Bill Oesterle cast as a year of substantial progress for the provider of online consumer reviews.
Shares in Angie's List jumped 50 percent by early afternoon Wednesday, to $7.34 each. But they remain well off their 52-week high of about $15.
"We grew revenue, improved margins and, for the first year in company history, generated positive adjusted EBITDA, all while investing to build our marketplace," Oesterle said in a written statement.
EBITDA—earnings before interest, taxes, depreciation and amortization—is one of the measures analysts use to evaluate the Indianapolis-based company. The firm, founded in 1995, never has turned an annual profit. It lost $12.1 million for all of 2014, a big improvement from its $33 million 2013 loss. Revenue for 2014 was $315 million, up 28 percent from the prior year.
The company's quarterly results benefited from a sharp increase in revenue from service providers, which advertise on Angie's List's website and in its magazines, and a dramatic cut in marketing spending. Service provider revenue in the latest quarter was $64.1 million, up 26 percent from the same period a year earlier. Marketing expense tumbled 53 percent, to $6.1 million.
The fourth quarter profit of $15.3 million, or 26 cents per share, was five times the $2.8 million, or 5 cents per share, in earnings the company reported in the last quarter of 2013.
The profit topped the predictions of analysts, who expected earning per share of 22 cents.
Quarterly revenue was $82.2 million, exceeding analyst expectations by $1 million.
The company said total paid memberships at the end of the period increased 22 percent, to about 3 million.
Since its founding, one of the company's primary pillars has been paid memberships, which allow consumers to find, hire and rate local businesses.
The company has reduced its membership fee over time and, lately, has been pouring resources into bolstering its e-commerce platform. Through e-commerce, service providers sell their products on the Angie's List platform and Angie's List gets a cut of the transaction.
Even as the e-commerce efforts continue, the pay wall for consumers isn't likely to disappear anytime soon. Still, executives emphasized that the pay wall doesn't restrict all access for consumers.
"We are running a 'freemium' model today," Oesterle said. "We continue to hear that we're so committed to the pay wall and dogmatic about it, but the commerce efforts are the free-front porch for consumers."
Oesterle said membership models have existed for years, citing companies like Costco and Amazon.com. "We have a good membership model. We're building the transaction model up underneath it."
In another e-commerce-related move, Angie's officials said they've introduced a subscription model for e-commerce service providers that involves lower transaction fees.
Oesterle described it as an "unlimited-minutes" plan that has prompted service providers to post more of their inventory on the platform. The company has about 2,000 e-commerce-only clients.
Growth on the membership front appears to be slowing. It added about 206,000 members in the fourth quarter, which is down from about 224,000 members added in the year-ago period. It was the third quarter in the last five that saw such a drop after eight straight quarters of growth.
Marketing spent on obtaining those members has also trended downward. In 2010, for instance, the company spent $85 on each new member. That has dropped every year, and stood at $70 per member in 2014.
"There's less appetite for us to drive increases in marketing spend," Oesterle said in response to an analyst question on marketing efficiencies. "I don't think we've hit maximum penetration in some of these big markets. There's much room for us to grow, but I want to make sure we have the monetization economics on the back end locked down."
Ken Copley, an analyst at Iowa-based Capital Executive LLC, said he's glad the marketing spending is down, but the company still needs to drop its pay wall.
"A lot of these bigger, more well-funded companies are starting to encroach on their local services. You look at what Google is starting to do, what Amazon is starting to do," Copley said. "[Angie's List] is going to screw around and price themselves right out of the market in few years if they don't change their business model quickly."
The results are giving a well-needed boost to Angie's List's stock, which on Tuesday closed at $4.89 per share, down 2.6 percent on the day. The stock has fallen 67 percent since trading at $15.03 in February 2014.
The results also could calm the nerves of members of the Indianapolis City-County Council, who are considering whether to provide more than $18 million in incentives for a 1,000-job expansion Angie's List is planning at its campus east of downtown.
Angie's List on Wednesday also predicted 2015 revenue in a range of $357 million to $363 million.
 
Please enable JavaScript to view this content.