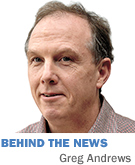 Pierre Goodrich, the enigmatic son of Indiana's 29th governor, rarely sought publicity. So perhaps it's not surprising that the Liberty Fund, the pro-free-enterprise foundation the businessman created in 1960, 13 years before his death at age 79, has an extraordinarily low profile in its hometown of Indianapolis.
But that's changing, thanks to efforts launched in recent years to reach out to the broader community and to Liberty's plan to build a $22 million headquarters at 111th Street and U.S. 31 in Carmel—one of the highest-profile sites in the state. When the project is complete late next year, Liberty will relocate from tucked-away, rented offices in Castleton.
The fund's obscurity never was a reflection of a lack of resources. Liberty is one of the richest foundations in the state, with $332 million in assets—firepower it devotes to publishing books and staging some 200 all-expenses-paid conferences a year in Indianapolis and around the world.
The invitation-only conferences—with names like "Liberty and Property in the Early Work of Hugo Grotius" and "The Moral, Ethical and Economic Foundations of Capitalism"—have a highly academic tilt aimed at advancing understanding and appreciation of the libertarian ideals of limited government, individual responsibility and the free market.

Goodrich
It's all in step with the thinking of Pierre (he used the homespun pronunciation "Peer") Goodrich, a Winchester native whose family fortune came from banking, coal and other industries.
The family was an early backer of Eugene C. Pulliam—acquiring 20 percent of his Central Newspapers and purportedly securing a promise along the way that The Indianapolis Star's editorials would espouse individual freedom, author Dane Starbuck said in a 2001 book.
Especially later in life, Goodrich often combined business with scholarly discussions. In 1971, workers of his Indiana Telephone Co. listened politely, but perhaps with puzzlement, as Goodrich pontificated on the work of Austrian economist Ludwig von Mises, Starbuck recounted in his book, "The Goodriches: An American Family."
The next year, when Gov. Otis Bowen came by to request a campaign contribution, Goodrich engaged in a lengthy discourse on what he saw as the governor's less-than-conservative views. Bowen left empty-handed, but Goodrich later sent him Lord Acton's letter containing the admonition that "power tends to corrupt and absolute power corrupts absolutely."
"Goodrich believed that education alone could enlighten individuals and persuade them to take correct action and accept moral responsibility," Starbuck wrote, summing up the educational mission the Liberty Fund carries on.
Leading the effort now is Chris Talley, 69, a former CEO of Peoples Loan & Trust Co. of Winchester, who first discussed economics with Pierre while working as a teller at the bank during college. Pierre at the time was leading the bank, which his father helped found.
"I came naturally to the ideas, somehow," Talley said. "And I found them very interesting, and they fit very nicely with the way I was beginning to think about things as a young man."
But Talley is also a roll-up-his-sleeves businessman. While the 47-employee organization might seem awash in resources, it found itself in a pinch after the financial crisis battered investments. The fund's assets peaked at $430 million, 29 percent higher than they are now.
After the crisis, the Liberty Fund, which had been putting on as many as 260 conferences a year, scaled back to around 150. It's worked its way back up to 200 in part by finding efficiencies and cost savings.
Still, the events aren't cheap. In the fiscal year ending in April 2014, the fund spent $14 million on charitable activities, including $10 million on conferences and events it staged alone or with partners.
Conferences typically have around 16 participants, often academics. But the mix sometimes is more diverse, and Liberty for more than a decade has been reaching out to the business community "to get them engaged in the conversation," Talley said.
Getting invited to participate in a conference is a coup, and some of the conferences are in exotic locales, even outside the country. But don't confuse them with a vacation. Before a conference begins, participants are required to complete more than 250 pages of readings, many of them weighty.
And there's nothing laid-back about the discussions, which start on time, end on time, and generally adhere to the Socratic method, said Jason Kloth, Mayor Greg Ballard's deputy mayor for education, who has attended two conferences.
"By the end of the day, you have pretty much exhausted yourself in dialogue and thought," added Melissa Proffitt Reese, an Ice Miller partner who has attended several and cherished the experience. "It takes you out of the minutiae of everyday life into a higher level of thinking."
Former Indiana Secretary of Commerce Nate Feltman, now president and co-owner of Home Health Depot, has attended nine conferences, including one held this month in Naples, Florida, that he was in charge of organizing.
"At the end of the day, I am very thankful for the opportunity Pierre Goodrich has left a lot of people around the world to study and learn," said Feltman, whose diverse career experiences include working as a lawyer in Russia in the 1990s.
Please enable JavaScript to view this content.