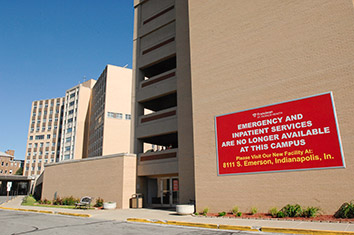 Franciscan St. Francis Health has finally found a buyer for its former hospital campus in Beech Grove.
Trouble is, it's found two.
Los Angeles-based DealPoint Merrill signed an agreement months ago to buy the 14-acre property, IBJ has learned. Its plans call for paying $3.75 million for the property, including transaction costs, then trying to fill up the 869,000 square feet of rentable space with medical tenants.

Whitsett
But closing on the deal has been delayed multiple times. It's not clear DealPoint has financing, and the developer and Franciscan also are seeking a zoning change for parking. It is scheduled to be heard on March 2—eight days before DealPoint's agreement with Franciscan is scheduled to expire, according to Beech Grove officials.
Meanwhile, Indianapolis developer Joe Whitsett has quietly floated a proposal past Franciscan and Beech Grove officials that would tear down most of the complex and fill the area with independent-living units for seniors and 50 to 60 single-family homes, according to two sources with knowledge of Whitsett's plans.
Beech Grove officials have been unhappy with the DealPoint proposal, and some said outright that they prefer the proposal from Whitsett, who is CEO of Indianapolis-based TWG Development LLC. TWG is currently developing the former Indianapolis Star building downtown into townhomes and apartments.
Franciscan has been trying to find a buyer since March 2007, when it announced the Beech Grove campus would be closed.
A previous deal with The Delamore Cos., a California-based developer that would have turned the site into a senior care facility, fell through in early 2009. The developer's other major project, Delamore Elizabeth Place LP in Dayton, Ohio, filed for bankruptcy reorganization later that year.
The Elizabeth Place development, which turned a former hospital into a mall of health care tenants, is now managed by DealPoint Merrill. The company develops and manages commercial and residential projects, primarily in Western states, and operates 165 commercial real estate brokerage offices nationwide under the Sperry Van Ness brand name.
DealPoint Merrill also looked at the Beech Grove campus in 2008, but only recently was able to come to terms with Franciscan at its preferred price, according to a 29-page loan request document, obtained by IBJ, which details DealPoint's plans.
DealPoint officials said the company cannot discuss the deal because it has yet to close.
Through a spokesman, Franciscan executives declined to comment, saying they were bound by a confidentiality agreement.
In an email, Joe Whitsett said he could not comment.
Two sources who have seen Whitsett's plans said his development would cost more than $25 million and would entail extending 16th, 15th and possibly 14th streets through the former hospital campus. The single-family homes would likely range in price from $175,000 to $225,000.

Buckley
The stakes are high for Beech Grove. The site lies at a high-profile corridor into the community of 14,500 people. And the property is looking increasingly rundown.
Beech Grove Mayor Dennis Buckley noted that the city's long decline in assessed valuation—from $504 million in 2004 to $370 million in 2012, has started to turn around.
Though Franciscan, as a not-for-profit, was previously exempt from property taxes, Beech Grove officials placed the property on its tax rolls last year. So Franciscan has started paying more than $600,000 a year in taxes while it appeals Beech Grove's decision.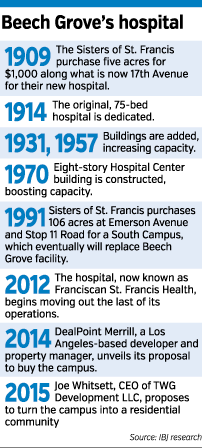 Even so, getting new development or new tenants on the site would help even more.
"It's very critical because it's a prime piece of real estate," Buckley said. New development there, he added, "will liven up the area."
DealPoint Merrill says it can do that. The company's loan request document calls for renting space in the facility for an average $13 per square foot. It projects leasing up 15 percent of the building each year for five years.
At that point, when the building would be 75-percent occupied and generating cash from operations of nearly $4.2 million, DealPoint would try to sell it. It thinks it could sell the facility for roughly $80 million.
DealPoint has secured a five-year tax abatement from the city of Indianapolis, which it values at $2.53 million. It has also applied for federal tax credits for medically underserved areas, which could total $10 million.
All told, DealPoint wants to raise $14.5 million—spending more than half that on "operating and holding costs," $1.5 million on closing costs, and setting aside another $1.5 million as a capital reserve.
It all sounds good—just a little too good, said Donald Webb, president of the Beech Grove Redevelopment Commission.
He noted that DealPoint's proposal describes the Franciscan campus as "move-in ready." But when a DealPoint representative gave him a tour of the Franciscan campus last October, Webb said, there were holes in the walls.
"I find their claims dubious," he said. "It would take them at least six months to a year to get it ready to open."
Webb also worries that, if DealPoint's plan does not succeed and it files for bankruptcy on the project, Beech Grove would be on the hook to tear down the hospital buildings, which range in age from 43 years to 93 years.
Estimates for demolition, he said, have ranged from $2 million to $12 million.
Webb is still smarting from the nearly $430,000 Beech Grove spent on legal fees in 2008 to help now-defunct Delamore prepare a bond issue to finance its development. When that project collapsed, Beech Grove's spending went for naught.
DealPoint Merrill's loan-request document called for securing a $9.1 million loan and investor contributions of nearly $4.4 million. DealPoint planned to put in nearly $1.1 million of its own money.
Buckley did not directly criticize the DealPoint proposal. But he said if it does not close after the purchase agreement expires, he intends to ask Franciscan to go a different direction.
"I'm pretty much at my wits' end with the purchase of the property, because it keeps getting delayed," he said.
Frank Mascari, an Indianapolis city-county councilor who runs a jewelry store in Beech Grove, was even more blunt.
"Joe Whitsett's plan," he said, "is the better plan." •
Please enable JavaScript to view this content.