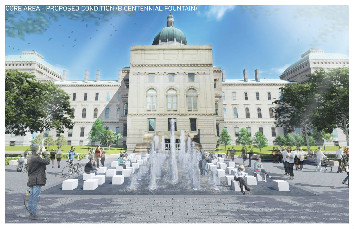 The Indiana Department of Administration unveiled renderings Friday morning of a Bicentennial Plaza that includes an interactive fountain and large sculpture that's supposed to be reminiscent of a torch flame.
The $2 million plaza, which is in the works for the west side of the Statehouse, is among $56 million in bicentennial-related projects that Gov. Mike Pence has planned in Indianapolis and elsewhere. While the plaza itself is limited to area at the intersection of Robert D. Orr Plaza and Senate Avenue, the administration department is incorporating another $4 million in upgrades and maintenance for those streets, state architect Jason Larrison said.
The Bicentennial Plaza, designed by Ohio-based MKSK Studios, will have three elements: an interactive fountain in the center, columns representing Indiana's 92 counties to the south and the torch-like sculpture to the north.
The 25-by-40-foot fountain will be shallow with a black granite floor and contain blocks of white polycarbonate seating, which are intended to match the Indiana limestone of the Statehouse. The transluscent seating will contain lights that can be turned on to liven up the fountain in winter, Larrison said.
White translucent polycarbonate is also the material of choice for 23 four-sided columns, which will display text and historical photos about Indiana counties.
The original concept of the plaza included a live flame, but that presented operational and security concerns, Larrison said. So MKSK came up with the idea of a large metal sculpture that's supposed to be reminiscent of the torch flame depicted on the state flag.
Larrison said the design could change once an artist/fabricator is hired. "Of the elements, it is the one we have not fully developed."
A rendering presented Friday morning to the Bicentennial Commission, depict the "flames" as tall, yellow, wavy columns, which also call to mind curly French fries.
Larrison said the goal is the make the west side of the Statehouse more pedestrian friendly and enjoyable. "Traffic patterns will change," he said.
Currently, cars can access Senate Avenue in front of the Statehouse from Orr Plaza. Those blocks will be closed to traffic and replaced with self-contained pick-up/drop-off areas, Larrison said. The design calls for adding more green space on Orr Plaza and planting new trees along Orr Plaza and Senate Avenue.
Additional information and images of the project can be found here.
Please enable JavaScript to view this content.