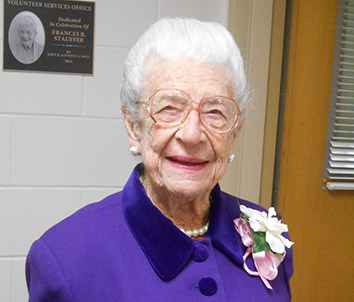 WINNER: Volunteer
Frances Stauffer
Volunteer, St. Vincent Carmel and Indianapolis hospitals
Frances Stauffer loves to tell friends and acquaintances in the St. Vincent Volunteer Services office about attending the premiere of "Gone With the Wind" in Atlanta in 1939.
She had met her future husband, Raymond Stauffer, the night before, but she already had a date to the premiere—a date she kept.
Frances Stauffer (Submitted photo)
Even though Frances and Ray did not go to the premiere together, she still had an unforgettable evening. She can't remember all the stars she met, but Clark Gable, Vivien Leigh and Olivia de Havilland were among those she greeted.
"I thought Clark Gable would be rather distant, but he was so gracious and friendly," Stauffer recalled.
The Georgia native's friends at St. Vincent suspect it was her Southern charm that got Gable's attention that night. More than 75 years later, Stauffer's cheerful demeanor is a joy to those who work alongside her at St. Vincent, where she's been volunteering for almost 35 years.
For her decades-long dedication to service at St. Vincent, Stauffer is the winner of the 2015 Health Care Heroes award in the Volunteer category.
Beth Dragoo, who has been volunteer coordinator at St. Vincent Indianapolis the last seven years, said Stauffer's perseverance at age 95 and her positive outlook are an inspiration to everyone she encounters.
"I've never heard her say one bad thing about anyone," Dragoo said. "She's always smiling."
And it seems like she's always working. Stauffer volunteers at St. Vincent Health's 86th Street campus Wednesdays and Fridays about seven hours a day, arriving at 7 a.m. She works at St. Vincent's Carmel hospital on Mondays and every other Tuesday.
The only day she won't work, Dragoo said, is Thursdays, the day she gets her hair and nails done.
"She's very much a Southern belle," Dragoo said. Stauffer's attention to detail shows in her appearance (she won't leave her apartment without wearing earrings) and in her work. She's a classic example of the Greatest Generation, Dragoo said. She looks her best, keeps her commitments, and always gives her best effort no matter what she's doing.
Stauffer began volunteering in 1982, not long after her husband died as the two of them were driving through Illinois returning from a trip. The couple traveled regularly to play golf, a sport she continued to play well into her 80s.
After Ray's death, one of their two daughters encouraged Frances to volunteer, advice she obviously took to heart.
"Volunteering pulled me through the grief of the loss of my husband," Stauffer said. "It gives me a reason to get up every day.  I enjoy helping other people, and it's something to look forward to."
Stauffer has served in many capacities in her long career as a St. Vincent volunteer. These days, she works in the 86th Street hospital's volunteer services office greeting visitors and doing administrative work. At Carmel, where she was the first volunteer when the hospital opened in 1985, she sits at the front desk, greeting visitors and offering directions.
In the late 1980s and early 1990s Stauffer's volunteer shift at Carmel's main outpatient/inpatient registration desk started at 6 a.m. Monday mornings. Her responsibilities included assisting the hospital staff with registering patients coming in for surgeries, chemotherapy treatments and other procedures.
To help prepare for her role on Monday mornings, Stauffer would come to the hospital on Saturday afternoons to review the list of scheduled patients, prepare patients' charts, and organize the necessary information so that on Monday morning the paid staff could check in patients quickly and efficiently.
After all these years, St. Vincent figures she has donated almost 60,000 volunteer hours of work to the health system.
"She is absolutely amazing," said Melinda Wirstiuk, the volunteer coordinator at St. Vincent's Carmel and Fishers hospitals.
Those who remember when Stauffer was registering patients at the Carmel hospital recall that the patients who came in regularly for treatments loved seeing her at the registration desk and appreciated the care and attention she gave them.
"She was a friendly face the patients could count on during a stressful time in their lives," Dragoo said.
Stauffer's volunteer work isn't limited to the hours she works in the hospitals. She is also a member of St. Vincent's Seton Society; the St. Vincent Hospital Guild, of which she was president from 1985-1987; and a past member of the St. Vincent Advisory Board.
Outside of health care, she was a member of the Goodwill Industries Guild, volunteered at the Indianapolis Museum of Art for 20 years, and was a member of the IMA Alliance. In 1986, Stauffer was named Hamilton County Volunteer of the Year and in 1998 was awarded the RTV6 Leadership Award.•
Please enable JavaScript to view this content.