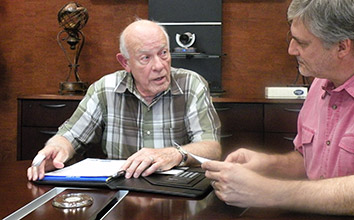 FINALIST: Volunteer
Duane C. Hoak, Ed.D.
Duane Hoak traces his interest in volunteering to World War II. He was a young boy whose dad was exempt from military service for health reasons. But the elder Hoak tried to do his part stateside in Toledo, Ohio, where he was head of the benevolence committee at church and spent many days delivering bags of groceries to the needy, with young Duane in tow.
"That seems to have made an impact on me as an adult," Hoak said. "My father was my model."
Hoak, left, wants to replace board work with more time on the front lines. (Submitted photo)
Hoak, now 78, has spent a lifetime following his father's example, first in his hometown of Toledo and later in the Indianapolis area, where he moved with his wife in 1969 to take a job as an education professor at Anderson University.
By 1972, he was dean of the faculty and looking for a way to make a difference in his adopted community beyond the walls of the university.
He started by joining the local Kiwanis chapter, getting involved in Anderson Crime Stoppers, and becoming active with United Way of Madison County. Hoak's activities since then are numerous, filling 40 solid years of volunteer activity and earning him the respect of those he has been associated with along the way.
"When there has been a need for someone with a sense of how to get things done effectively behind the scenes, he has often been that person, willing to step in to do what was needed," said Jerry Landers, vice president and chief development officer at Aspire Indiana, a not-for-profit that provides a broad range of mental health services in central Indiana.
"Several organizations owe their very existence to him," Landers said.
Aspire Indiana is one of those. Hoak has served the organization or its predecessors in one capacity or another since 1987. He's been the group's chairman three times and was instrumental in the 2009 merger of BehaviorCorp and the Center for Mental Health that created Aspire.
While mental health is a favorite cause of his, he's also dedicated to relieving as many people as possible of food insecurity. As a member of Park Place Church of God, which he joined when he moved to Anderson, he's been involved the last 10 years in creating a community center that now runs the largest food pantry in Madison County.
He volunteers there two or three days a week when he's not wintering in Florida, where he also volunteers at a food pantry.
As he reflects on a lifetime of volunteerism, Hoak sees his role evolving.
"I don't plan to quit, but the nature of my volunteer service will continue to change," he said, explaining that he expects to disengage from governance roles so younger volunteers can play a more active role. "We must constantly be looking for a balance of continuity, experience and new blood."
That means Hoak won't be found as often sitting at the boardroom table. But he'll still be doing the front-line work like staffing food pantries, bringing him full circle back to those days in Toledo delivering groceries with his dad.•
Please enable JavaScript to view this content.