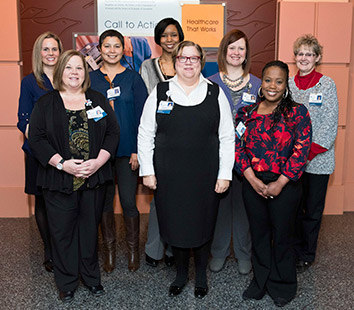 FINALIST: Community Achievement in Health Care
Rural and Urban Access to Health (RUAH)
Lack of access to care is a major barrier to good health for people living in poverty, especially for those in underserved areas or who don't speak English.
Leaders at St. Vincent Health, recognizing the lack of access and outreach in some of the areas it served, in 2000 partnered with other concerned groups to create Rural and Urban Access to Health, or RUAH, a network of field-based workers that has grown from four counties to 10 and now has almost 15 years of success stories to its credit.
That includes clients like David, a 69-year-old man who was in poor health when he arrived at The Christian Center Inc. in Anderson looking for a place to live. The Christian Center, a faith-based not-for-profit that provides help and housing to people in need, introduced David to RUAH Health Access Worker Shayne Tacket, who helped David find a primary care doctor and specialists who were able to improve his vision, hearing and emotional health.
"[RUAH's] Health Access Team has literally turned this man's life around," said Angie Harrison, who runs The Christian Center's Community Assistance program.
The staff of Rural and Urban Access to Health helps connect the overlooked and underinsured to needed services. (IBJ Photo/ Eric Learned)
That's the kind of story that makes Sherry Gray's job rewarding. Gray, who's been RUAH's director since shortly after she joined the organization 10 years ago, has seen the difference it can make in people's lives. People find out about the program in a variety of ways, and once they do, they tell friends and family, she said.
There's no shortage of people to help. RUAH serves about 500 people a month, Gray said. Health Access Workers connect people with doctors, help them find insurance, secure reduced-price prescription drugs, provide translation services, and make sure they have such basics as food, clothes and transportation. Gray said about 80 percent of those who get help get on their feet and move on. RUAH sticks with the other 20 percent for the long haul if they need it.
The program's initial partners were St. Vincent, Indiana Health Centers Inc., Health and Hospital Corporation of Marion County and ADVANTAGE Health Plans. Initial funding came from a federal Community Access Program grant. Private funding has come from St. Vincent parent Ascension Health and the Anthem Foundation. The hospitals in the areas RUAH serves also contribute to its $900,000 budget.
RUAH initially covered Clinton, Howard, Madison and Randolph counties. Its territory has since grown to include Clay, Jennings, Fountain, Warren, Hamilton and Washington counties. Many of the counties are rural; all are served by a St. Vincent Health facility. Gray said funding was just approved for RUAH's first two Health Access Workers in Marion County.
A few years ago, the program took a more formal approach to measuring its effectiveness. Instead of just counting everyone RUAH touched in some way, the program now counts outcomes, which it calls Pathways. RUAH needs to know not only that an appointment with a doctor was made, but that it was kept, Gray said.
Among RUAH's many achievements is the training of almost 2,000 interpreters since the program started. The 40-hour program is offered to workers at a variety of organizations that interact with the Hispanic population. Gray said it's tailored for a medical setting. And completing the program isn't enough; RUAH tests the proficiency of those who've completed it.•
Please enable JavaScript to view this content.