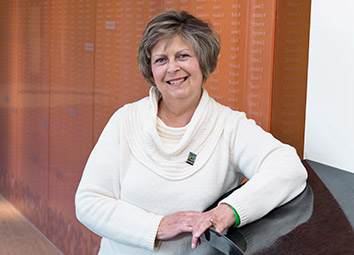 FINALIST: Volunteer
Julia Rejer
Advocate, Indiana Donor Network
Organ donors saved Julia Rejer's life. She volunteers to save the lives of others.
Rejer has been a volunteer for the Indiana Donor Network, formerly the Indiana Organ Procurement Organization, for almost two decades.
(IBJ photo/Eric Learned)
Rejer, 59, has endured two transplants, the first in 1997 when she received a donor liver. Ten years later, that liver had failed, and she got on the transplant waiting list again. The anti-rejection medications she'd taken to save her first donated liver had damaged her kidneys, so she needed a liver and a kidney.
"I didn't think I would survive long enough to get that transplant," she said. "I was blessed once. I couldn't imagine being blessed a second time. When I think about it today, I think, 'Wow. I survived it all.'"
But mostly she thinks about what she's been able to experience because of the generosity of the donors who saved her life not once, but twice.
Her son and daughter were 2 and 3 when she was diagnosed with an autoimmune disease of her liver in the mid 1980s. She doubted she'd see them graduate from high school. By now, she's seen them graduate from high school and college, she danced at their weddings, and she has three grandchildren. "I never thought I'd get to experience those milestones."
Rejer hopes her volunteer work results in someone else getting the same opportunity, even if the work takes her outside her comfort zone.
"I'm not a public speaker by any means," she said. Yet she speaks to groups 10 to 15 times a year about the importance of being a donor.
Many of her talks take place at high schools, where she can share her story with teenagers who are just starting to drive and need to know the importance of checking the organ-donor box when they get their license.
The most important thing any prospective organ donor can do is discuss his or her wishes openly with family. Organ procurement organizations hope medical professionals will ask the family when a loved one dies, or that the donor heart symbol on the driver's license will be enough, but it's best if the family brings it up.
"Have the conversation with your family so they'll know," she said. "They have the final say."
While much of Rejer's volunteer work for the Indiana Donor Network is meant to build awareness, she also spends plenty of time helping the organization support and thank the families of donors. The network's after-care program keeps in touch with donor families for at least the first 13 months after a donation, providing them with materials that help them grieve and hosting opportunities for them to meet other donor families. Rejer also works on the committees that put on an annual golf tournament and gala.
Rejer has now managed to stay out of the hospital for more than two years, her longest absence in the last 30. For that she's grateful. That would be reward enough, but the Indiana Donor Network had something else in mind for Rejer this year. She was chosen to represent Indiana on the Donate Life float in this year's Rose Parade.
Everyone on the float was an organ, tissue or eye recipient. Living donors walked alongside the float, which featured pictures of donors.
"It was beyond words," Rejer said. "It was quite an emotional week."•
Please enable JavaScript to view this content.