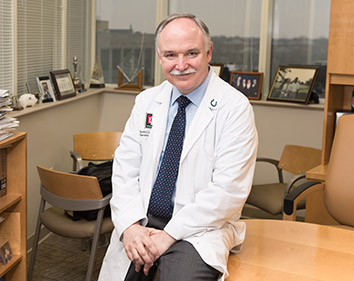 WINNER: Physician
Patrick J. Loehrer Sr., MD
H.H. Gregg Professor of Oncology; Director, Indiana University Melvin and Bren Simon Cancer Center; Dean for Cancer Research, Indiana University School of Medicine
Dr. Patrick Loehrer has a history of making bold moves.
As an undergraduate at Purdue University, he was an aspiring doctor who decided to major in mechanical engineering even though biology majors had a more natural path to medical school.
(IBJ photo/Eric Learned)
As a med student at Rush Medical College in Chicago, he chose to do a one-month medical school elective rotation in oncology at the Indiana University Medical Center. At the end of the four-week rotation, he told professor Lawrence Einhorn that he would one day return to IU, practice oncology and work with Einhorn. And that's what he did. Only a month earlier, Loehrer didn't know what he wanted to specialize in. "All I knew about cancer was that you died from it."
And in 1981, after a two-year fellowship at IU, Loehrer put together a protocol for the treatment of thymoma that is still the worldwide standard for treating cancer of the thymus.
Loehrer's bold moves—and the difference he's made in the lives of his patients and others around the world—are why he's the winner of the 2015 Health Care Heroes award in the Physician category.
Einhorn, Loehrer's mentor and now longtime colleague, nominated him for the award, describing him as "a Health Care Hero on a global stage." Einhorn went on to say that "Loehrer is arguably the world's leading expert in the treatment of thymic malignancies" and "has established Indiana University as the national, if not world-leading, center for treatment of this malignancy."
Now 61, Loehrer's career path in medicine is closely tied to Einhorn, who had come up with his now-famous protocol for treating cancer of the testis not long before the two met. Seeing young men cured who only a few years earlier would likely have died of the cancer hooked Loehrer on oncology and the promise of being a researcher and teacher.
He places big value on IU's triple mission of research, teaching and clinical care. "People who work at academic centers are wired a little differently," Loehrer said. "Making an impact in a bigger way is the joy of it."
Loehrer has done that in numerous roles. He founded the Hoosier Oncology Group, recently renamed the Hoosier Cancer Research Network, more than 30 years ago and is now a director there after serving for years as its executive director. The network, which is the administrative home of the Big Ten Cancer Research Consortium, has created an international network of 130 academic and community institutions dedicated to turning clinical research into patient treatments.
As director of the IU Simon Cancer Center, a job he inherited from another of his valued colleagues, the late Stephen Williams, Loehrer is responsible for building the research capacity to further IU's proficiency in treating a number of cancers, including testicular cancer, thymic malignancies, gastrointestinal tumors, breast cancer and lung cancer.
A recent area of focus for Loehrer and his colleagues is studying the long-term effects of chemotherapy on cancer survivors, a project IU is well positioned to tackle because it has a large stable of survivors of testicular and thymic cancers, thanks to the work of Loehrer and Einhorn.
Another passion of Loehrer's is a new oncology center that will open soon in Eldoret, Kenya. The center is an outgrowth of IU's decades-old effort to treat HIV/AIDS in Kenya. The center, which has been a dream of Loehrer's since shortly after his first visit to Kenya a dozen years ago, will screen 25,000 women a year for cervical and breast cancer. In early February, the project won a $1 million grant from the Lilly Foundation that will help equip the center and hire additional staff.
Though Loehrer's work is known worldwide and has had broad implications for the research done at IU, the true measure of his effectiveness is found in the lives of patients who say they owe their lives to him. He sees about 25 patients a week, some of them like Kim Lansford, who lived in Texas when she was diagnosed with thymoma in 1999.
Lansford was in a surgeon's office in Arlington, Texas, being told her cancer was inoperable when she heard for the first time from Loehrer's office. She and her husband had found him through some initial research and left a message. Much to their surprise, it wasn't just Loehrer's office calling, it was the doctor himself.
Almost 20 years later, Lansford said she owes her life to Loehrer. "He is a combination of a great friend everyone would want, Superman and the Energizer Bunny all rolled up into one great doctor."•
Please enable JavaScript to view this content.