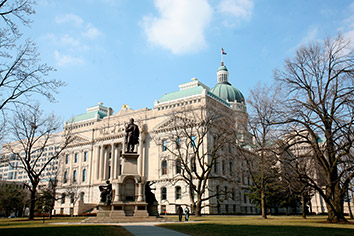 Proposed school funding changes that could lead to cuts for many of Indiana's urban and rural districts with shrinking enrollments are set to get a close look from state lawmakers.
A Senate committee is scheduled to hear testimony Tuesday afternoon from school officials on the House-backed funding plan that would shift tens of millions of dollars to growing suburban districts.
Sen. Luke Kenley, R-Noblesville, the leader of the Senate Appropriations Committee, said last week he wants to consider ways of possibly easing those school-funding shifts.
The state spending plan approved by House Republicans includes 2.3-percent overall increases in school funding in both years. But Democrats maintain the plan would cause "devastating" funding reductions to more than a third of Indiana's nearly 300 school districts, many of which are in the poorest communities.
Suburban districts have asked for changes for years because they receive much less funding on a per-student basis than some urban districts, in some cases as much as $2,700 per student.
Please enable JavaScript to view this content.