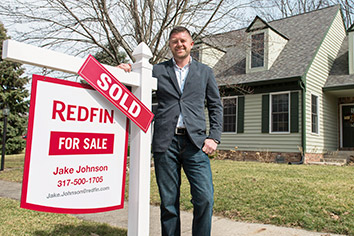 A residential real estate service that prides itself on its tech-savvy ways and alternative methods of compensating agents hopes to make a splash in the Indianapolis market.
Seattle-based Redfin launched locally in December by introducing a website chock full of area homes for sale. But unlike Zillow and other online listing services that generate revenue solely from advertisements, Redfin also employs salaried real estate agents to assist clients in the buying and selling process.
The idea is to turn traditional marketing upside down by shifting much of the legwork online. Online shopping saves time that agents traditionally would spend showing homes, enabling Redfin to charge cheaper commissions.
"We do everything that a real estate brokerage does for their clients," said Jake Johnson, who heads local Redfin operations. "We're just adding the technology that sets us apart."
Johnson, 31 and with 12 years of real estate experience, came to Redfin from Kirk Realty Group LLC in Fishers. He's hiring agents, though he declined to divulge how many or the number of homes the company has listed or sold, citing competitive concerns.
Founded in 2004, Redfin now has a presence in 42 cities and has raised more than $160 million from investors. It began helping clients buy and sell homes two years later, and has closed on $20 billion in home sales nationwide.
But skepticism of the business model still abounds among traditional real estate brokers.
"There will be a place for them, but we'll see how much the market accepts them here," said Greg Cooper, an agent at Berkshire Hathaway Home Services Indiana.
Redfin's foray into the Indianapolis area and the non-traditional way in which it sells homes isn't necessarily a bad thing for the local real estate market, Cooper said. But he doubted that a seller of a high-end home will seek out a Redfin agent who is paid a set amount rather than a commission.
Redfin employs its agents, numbering more than 1,000 nationally, directly and pays them a salary—differing from the commission-based compensation structure of traditional real estate agents—and ties bonuses to customer satisfaction.
"If they're being paid a salary, they're not going to have the same motivation or expertise [to sell a home] as a top-30 agent in the city," Cooper argued.
Laura Bobinsky and her husband sought out Redfin to sell their home on the north side and are more than pleased with the results. Listed at $195,000, it attracted three offers in three days and is under contract to sell above the list price, she said.
Redfin's technological features for clients helped convince the couple to select Johnson to list their home over several other agents they interviewed.
"We also appreciated the [lower] commission structure," Bobinsky said. "That's a little more helpful to the seller."
The company's agents are reviewed after every transaction, whether successful or not, with all reviews posted on the site under the agent's online profiles.
Redfin charges a 1.5-percent fee to list a home instead of the typical 3-percent, translating to a $4,500 savings for a $300,000 home. For buyers of homes listed with other agencies, Redfin offers refunds to its clients on the buyer's commission that it collects based on the purchase price of a home.
It's able to charge less and offer rebates, Redfin maintains, due to low overhead costs and a lively online presence.
"We only charge a 1.5-percent fee because we don't have to spend the money to put our faces on billboards," Johnson said. "Our website takes care of all that for our agents."
Despite the fee, every home listed with Redfin is shot by a professional photographer and marketed online, complete with a 3-D walk-through tour.
Clients can log onto a buyer-seller portal 24 hours a day to see how many views their homes have received from prospective buyers. The analytics enable them to see higher online traffic times, and how many views a home receives per week.
Redfin's website gleans information directly from the Metropolitan Indianapolis Board of Realtors' broker listing cooperative, so the home listings that appear on Redfin's site are updated daily.
A Redfin smartphone app also is available, giving clients immediate access to listing information.
When representing sellers, Redfin agents go to the same lengths that a typical broker would to sell a home; they stick "for sale" signs in yards and conduct open houses, Johnson said.
"People who have shied away from working with a real estate agent, whether it's because of costs or they're uninformed, they tend to come to Redfin because all of the information is out there for them to see," he said.
Mark Zukerman, who launched the local Encore Sotheby's office in 2010, knows what it's like to be the new kid on the block. He described Redfin's model as "very, very interesting" and welcomes its entrance into the market.
But he's unaware of any agent in his office who has yet to compete with Redfin for a listing, and wonders whether it will be able to crack the luxury home market.
"It will be incredibly attractive to a certain marketplace," Zukerman said. "For somebody selling a million-dollar home in Carmel, I'm not sure the predominance of Internet marketing will be attractive in that market."
Redfin marketing materials say traditional agents like Zukerman and Cooper have responded positively to working with Redfin agents because "we're great partners on the other side of the deal."
Redfin recommends to its sellers that they offer the full buyer commission (also typically 3 percent) to other agents to help attract interest.•
Please enable JavaScript to view this content.