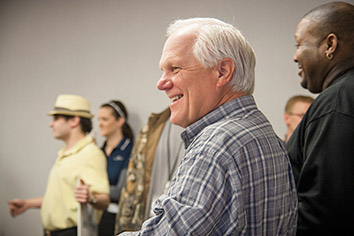 Anthem Inc. modestly boosted the salaries and stock awards given to three of its four top executives last year and also handed out smaller bonuses, according a proxy statement filed Wednesday afternoon with the U.S. Securities and Exchange Commission.
That mix of moves caused overall compensation to essentially hold steady or grow modestly for Anthem's executives.
Meanwhile, Anthem's stock had a terrific year. Including price gains and dividends, Anthem's stock gave shareholders a 38-percent return last year, closing on New Year's Eve at $125.67 per share.
CEO Joe Swedish received a total of $13.53 million in cash, stock and perks in 2014. That was down 20 percent from 2013, when Swedish joined Anthem.
But Swedish's 2013 compensation was inflated by nearly $4 million in extra compensation the insurer gave him to make up for pay he had to forego from his previous employer when he took the top job at Anthem, as well as moving and legal expenses incurred in negotiating his contract.
Excluding those payments, Swedish's 2014 compensation rose 3.7 percent over the previous year. However, his 2014 compensation for was for a full year, whereas he worked just more than nine months for Anthem in 2013.
Anthem Chief Financial Officer Wayne DeVeydt received much smaller stock awards in 2014 than the previous year, when he was given $3 million in extra stock awards to encourage him to stay with Anthem and to make his compensation more equal to other health care CFOs. As a result, DeVeydt's total compensation fell 37 percent, to $4.97 million.
Excluding the special stock awards in 2013, DeVeydt's compensation would have been virtually unchanged between the two years.
Ken Goulet, president of Anthem's commercial and specialty businesses, enjoyed a 4.2-percent increase to his compensation, bringing his total 2014 cash, stock and perks to $4.95 million.
Anthem's chief administrative officer, Gloria McCarthy, received a 9.5-percent boost to her compensation, which last year totaled $3.94 million.
Please enable JavaScript to view this content.