In the state's fastest-growing county, the two fastest-growing towns both hope to stake a claim to unincorporated Perry Township.

The Boone County towns of Whitestown and Zionsville have been extending municipal borders for years, occasionally with overlapping interests.
Zionsville sees merging with Perry as an opportunity to reorganize the town's government and add the position of mayor, which it has sought for years. But Whitestown wants to protect the town's western border for growth. If Zionsville claimed the land, Whitestown would be boxed in.

The courts will decide which town will prevail as Whitestown attempts to prevent the merger, claiming Zionsville has no legal ability to do so. A three-judge panel in the Indiana Court of Appeals heard the case on March 30; a judgment is pending.

Whitestown and Zionsville aren't strangers to population increases—and annexing unincorporated land.


Boone is Indiana's fastest-growing county, according to 2014 data compiled by the Indiana Business Research Center.

Whitestown saw a 36.5-percent population increase from 2010-2013, and Zionsville had 7.5-percent population growth in that same period. Perry Township's population increased 11.5 percent.
To prepare for the future, Whitestown annexed portions of Eagle Township to the south, part of Perry Township to the west, and Worth Township to the north.

The town attempted to merge with Worth Township, but voters rejected the proposal in 2012. After that, Zionsville annexed parts of Worth Township.

Zionsville also merged with Eagle and Union townships in 2010—after Whitestown's annexation into Eagle.

This back-and-forth process of taking chunks of surrounding land has raised tensions between the towns, and now both are eyeing Perry Township.
Unincorporated Perry Township is mostly undeveloped, with some residential property, a few cemeteries and a limited amount of business. Off the Interstate 65 exit for State Road 267, which runs through the township, there's a McDonald's, Subway and Love's gas station.

Quest for a mayor

Zionsville Town Council member Jeff Papa said the town has wanted a mayor for years, and merging with another entity would allow the town to shift responsibilities and add the position.

Under the current system, the part-time president of the town council serves as the city's executive.

Papa said without a full-time executive like a mayor, opportunities are missed. For example, if a business wanted to talk to the council president about economic incentives to locate in Zionsville, the president would need to consult the council.

Those financial arrangements are mostly confidential in the beginning, but if a majority of council members get involved, it becomes an open meeting, hampering the likelihood of a deal, he said.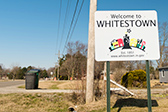 (IBJ photo/ Eric Learned)
The plan to reorganize with Perry was approved by both governing entities last spring.

In June, Whitestown filed a lawsuit to prevent the reorganization. But since ballots had already been prepared, residents had their say and approved the proposal in November.
Whitestown Town Manager Dax Norton said the town is trying to keep the possibility of expansion open.

"We think there's merit to wanting to protect our border to the west," Norton said. "It's a legitimate disagreement between the two towns. Whitestown has the right to protect its border. Zionsville has a right to expand."

Financial impact

Zionsville asked Crowe Horwath LLP to consider the worst-case financial scenario for the town and township if the merger is allowed.

The worst case predicted an annual property tax increase of less than $30 for a $400,000 home in Zionsville. Perry Township residents would see a much larger increase—about $640 for $400,000 worth of property.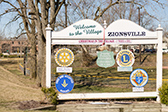 (IBJ photo/Eric Learned)
But Papa said the calculations assume the town approves an unbalanced budget, which he described as unlikely. He said property taxes are unlikely to rise for anyone.

The financial analysis, a required step when governments merge, did not address the potential financial impact to Whitestown—a potential shortfall of the study in the eyes of the Indiana Department of Local Government Finance.

Norton, the Whitestown town manager, said he doesn't see any short-term financial impact, but believes it could have an effect in the future.

"In the long term, it's a matter of assessed value growth," Norton said.

If the merger goes through, Zionsville expects to add about $216,000 in expenses, including salaries for a mayor, and a department head of finance and records, and to cover township duties like cemetery maintenance and fire department services.

The reorganized town would collect an estimated $2.5 million in property tax revenue.

Zionsville plan has pluses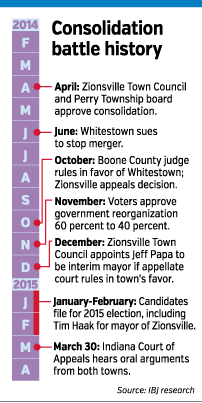 Perry Township Trustee Sam Baldwin said part of the township already has been annexed by Whitestown—which increased taxes—and residents don't want more annexation to occur.

Instead, if the township merged with Zionsville, it could maintain some control and have minimal impact on taxes.

"We thought it might be the lesser of two evils," Baldwin said. "Because they wouldn't be annexing. … We would have representation if we reorganized with Zionsville."

Under the plan approved by both governing entities and the public, Baldwin would serve on the town council for a year, then the seat to represent Perry Township residents would be open.

Baldwin said merging with Whitestown was never offered to the township.

The rural parts of Perry Township would remain as is, at least for the time being. Papa said the township wants to stay that way, and Zionsville doesn't see that as a problem.

"It wasn't a fiscal motivation for us to partner with Perry," Papa said.

Legality of the deal

Zionsville argues that, when the town merged with Eagle Township in 2010, it assumed the powers of a township, including the ability to merge with an adjacent township within the same county.

Before the merger with Zionsville, Eagle Township bordered Perry Township and both are within Boone County, making the proposed merger with Perry Township legal.

Papa
But a Boone County judge disagreed in October, ruling in favor of Whitestown, which argued Zionsville cannot legally take Perry Township.

Attorney Steve Unger with Bose McKinney and Evans LLP, who is representing Whitestown, said during the appellate court hearing that Zionsville doesn't border Perry Township, so it cannot merge with it. When the town merged with Eagle Township, the township ceased to exist, and so did the borders. The parts of the former Eagle Township that border Perry Township are technically in Whitestown, not Zionsville.

"There is a gap," Unger said. "There is a loss of connectivity."

Zionsville counters that a small piece of land within the former Eagle Township, that Whitestown didn't annex, touches Perry Township. Since Whitestown didn't annex the property, and it was within Eagle Township, it is now in Zionsville.

As the 2015 election nears, it becomes less likely the residents of Zionsville will be voting for their first mayor. Nevertheless, Republican Town Council member Tim Haakhas filed for the office.

There also are two candidates for clerk-treasurer—Candace Ulmer and Amy Lacy—even though if the court rules in favor of Zionsville, the office will be eliminated.

If a final court ruling isn't obtained before the 2015 election, the court could allow a special election in 2016, if necessary.•