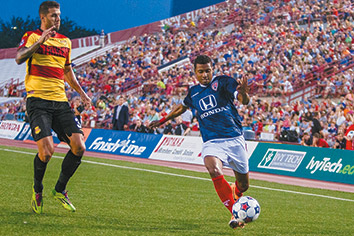 Indy Eleven hired multiple Statehouse lobbyists in its quest for a publicly financed stadium, but the biggest bang for the soccer team's buck might come from winning over Mayor Greg Ballard.
The Indiana Senate's fiscal gatekeepers derailed Indy Eleven's immediate hope for a brand-new $82 million downtown stadium. A compromise bill that could see a final Senate vote within days would allow Indiana University to borrow $20 million to renovate—or even rebuild—Indy Eleven's current home, the Michael A. Carroll Track and Soccer Stadium.
And Ballard will make sure it's no humdrum makeover.
"We're still committed to helping out," Chief of Staff Jason Dudich said.
The Mayor's Office doesn't know at this point how much the city would contribute, or to which aspect of the project, but Dudich is working closely with Paul Okeson, a former chief of staff to Ballard who now works for Indy Eleven team owner Ersal Ozdemir's Keystone Construction Group.
The city's lobbyist registry lists Okeson as talking on behalf of Indy Eleven to the Metropolitan Development Commission, City-County Council and Capital Improvement Board of Managers, as well as the Mayor's Office.
Indianapolis City-County Council Democrat Zach Adamson said he doesn't think the city's financial support is appropriate, now that Indy Eleven's home would be the property of IU.
Adamson is an Indy Eleven season-ticket holder, but he said, "I just don't know how we're going to rub two nickels together and get a dollar."
But the city set a precedent for contributing money to university-owned projects in 2014 with a $10 million contribution to fixing up the IU Natatorium.
The city's money, drawn from the downtown tax-increment finance district, will go toward street improvements on the IUPUI campus. That in turn frees up money in the university budget that otherwise wasn't available for the swimming pool, which is set to host U.S. Diving trials in June 2016.
Similarly, IU had no plans to invest in the Carroll track stadium, which is approaching obsolescence, Tom Morrison, vice president of planning and facilities, told the Senate Tax and Fiscal Policy Committee, which advanced the current version of the soccer stadium bill.
The university is likely to come up with a package of campus improvements that would cost much more than $20 million, Dudich said.
"They might want a whole different facility in that area," he said.
Indeed, a minor amendment filed by Sen. Brandt Hershman, R-Buck Creek, as the stadium bill advanced to the full Senate added language so the bond revenue could be spent on Carroll stadium "or its successor." The bill was scheduled for a second reading April 2 and could see a final vote the week of April 6.
Lobbyist-spending reports for the six-month period beginning Nov. 1 aren't yet due, but in the last 12-month cycle, Indy Sports and Entertainment (the team's parent) spent about $59,000.
Okeson said he's put a significant number of hours into the stadium project, and that will be reflected in the next report.
Okeson began talking to the Mayor's Office, and Ballard's deputies spoke in support of the bill, weeks before Okeson registered as a lobbyist with the city in mid-March. Before then, Okeson said, his talks with the city didn't count as lobbying because there was no specific request on the table.
Now, the bill explicitly states that the city may contribute beyond the state's $20 million.
Adamson
From the beginning, Indy Eleven pitched the stadium as a multipurpose facility that could host other field sports and concerts. Neither the Capital Improvement Board, which manages other downtown sports and entertainment venues, nor the Indiana Sports Corp., which promotes those venues, had identified such a hole in the city's portfolio.
But Ballard sees the benefit.
"The mayor wants a multipurpose facility," Dudich said. "This investment not only helps Indy Eleven, it also helps a bunch of other organizations."
Ballard made the same argument about the $6 million World Sports Park that the city created on the east side, primarily to host elite-level cricket matches.
Adamson, a member of the council Public Works Committee who blasted Ballard for spending Rebuild Indy infrastructure funds on the cricket fields, said he still doesn't understand why Indy Eleven can't make use of existing sports venues.
"Do we have to have separate facilities for every organization?" he asked.
Hershman and Senate Appropriations Committee Chairman Luke Kenley, R-Noblesville, were skeptical that Indy Eleven's original pitch warranted public financing—or at least, state backing.
The compromise Hershman brokered would repay the state through sales, income and admissions taxes collected at the stadium, as well as innkeeper's taxes on Ozdemir's downtown hotel development.
Indy Eleven President Peter Wilt embraced the compromise bill when he appeared before the Senate committee, but the team wasn't finished suggesting tweaks. The Mayor's Office is assisting that effort as well.
The bill says IU must have a 20-year lease with Indy Eleven, but could include a buyout provision if the team departs early. Eliminating that buyout provision could make it possible for the team to pursue a larger stadium sooner than 20 years from now, Dudich said.
Another question that remains to be answered, he said: "How willing is Indy Eleven to sign a 20-year lease?"•
Please enable JavaScript to view this content.