Major Tool & Machine Inc. is a relic of sorts. Years after such manufacturers as P.R. Mallory, Chrysler and General Motors abandoned Indianapolis' center, the contract manufacturer churns out $100 million a year in precision parts northeast of downtown, where it rooted right after World War II.

Why not move to literally greener pastures in a rural area, like so many other manufacturers have done? Because, marketing chief Joel Manship said, leaving the city center would isolate Major Tool from tens of thousands of potential workers.

That's all the more true now that millennials in particular are flocking to cities. Many of that generation say they want to settle in older urban areas—places like Major Tool's stomping grounds.

The city and private economic development groups hope a lot more companies start thinking like Manship—and they're taking concrete steps to help make it happen.

The Mayor's Office, Indy Chamber and Local Initiatives Support Corp., a redevelopment organization, are forming a not-for-profit to shift aged abandoned industrial properties back to active manufacturers.

The yet-unnamed group would buy debilitated properties, clean them up, and resell them to manufacturers or developers. The developers would build speculative buildings to lure manufacturers and other industries.

Luring manufacturing back to the city center will require ongoing brownfield cleanups, said Department of Metropolitan Development Director Adam Thies. But it also will require willingness by the city to take the lead in consolidating myriad tiny parcels into tracts of 20 acres or more—sizes sought by many manufacturers.

"We are going to have to be involved," Thies said. "But we would like to be involved in a way that brings in the private sector. There's got to be a way for the private sector to want to be here."

Desirable jobs


Manufacturing jobs have long been important for people without bachelor's degrees. The jobs pay an average of $85,802 in Marion County, compared to an average of $50,608 for all jobs in the county in 2012, according to the latest figures available from the government.

Manufacturing was the lifeblood of Indianapolis from the Civil War through the 1970s. Eli Lilly and Co. chemistry research resulted in insulin for treating diabetes, Reilly Industries Inc. predecessor H.J. Baker processed castor oil, and Stutz and Duesenberg were among the nation's early automakers.

Some—like Lilly, Allison Transmission and engine maker Rolls-Royce—stayed and prospered. But many others closed as sites became obsolete; technology replaced workers; and less-expensive locations in Mexico, China and elsewhere beckoned.

From 2000 to 2013, Marion County lost a third of its manufacturing employment—falling from 79,469 to 54,283, according to the Indiana Department of Workforce Development. Consistent figures dating back further than 2000 are unavailable due to the government statisticians' changing their definition of a manufacturing job. But the industry employed tens of thousands more.

Some of those losses occurred when P.R. Mallory gradually contracted its east-side battery plant in the 1970s. West of downtown, Chrysler closed its foundry in 2005, and General Motors closed its stamping plant in 2011.

Farther east near Interstate 70, Navistar said in December it would close its engine block foundry, and even farther east—near Interstate 465—Ford Motor Co. idled a steering-gear plant in 2008.

Formative stages

Indianapolis is well behind such cities as Pittsburgh and Philadelphia in setting up industrial reuse organizations, said LISC Executive Director Bill Taft. That's because other cities built out to their boundaries and then were forced to redevelop their older properties.

Indianapolis unified city and Marion County government in 1970 and pushed the city's boundaries to the edge of the county. Only now is the city running out of greenfield space. Thus, Indianapolis has had the luxury of relying on developers to attract industry.

Area development groups struggle to take on the complexities of returning orphan properties to companies and are wary of taking on legal liability, Taft said. The projects also tend to be larger than many neighborhoods are able to handle.

"We're early in figuring all this out, and even figuring out the tools we need," Taft said. "There are still a lot of open questions about this thing."

Details of the not-for-profit are still being decided, organizers say. But some basics are in place.

At minimum, board seats likely will include representatives of the city and City-County Council, Ties said. Brian Gildea, Indy Chamber's vice president of Indianapolis economic development, predicted the organization will launch later this year.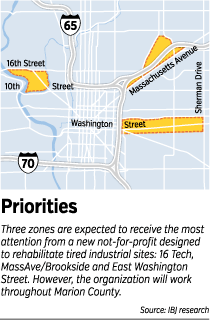 The organization will try to solve a property's problems by cleaning up brownfields, tearing down obsolete buildings, and doing whatever else it takes to make it "shovel-ready" for companies or developers wanting to build.

Organizers initially will focus on three zones:

• 16 Tech, which is bounded by 10th and 16th streets, White River and Fall Creek.

• Mass Ave/Brookside Industrial Corridor, which is bounded on the south by Massachusetts Avenue, on the west at the north split of interstates 65 and 70, and on the east between Rural Street and Sherman Drive.

• East Washington Street Corridor, which is bounded by Interstate 65 on the west, Sherman Avenue on the east, New York Street on the north, and railroad tracks just south of Washington Street.

Gildea said funding, preferably about $500,000 to launch, might be drawn from grants and other sources. As properties are sold to developers, the proceeds would be reinvested in other properties.

Some projects might involve buying and fixing up a small existing building; others might be as complex as gathering industrial properties as bookends and then buying a couple of houses separating the industrial properties and reconfiguring the tracts into a single site.

It's too early for the group to have zeroed in on an initial property, Gildea said.

However, he said the organization will be informed by Develop Indy reports showing the kinds of properties companies want most. In 2014, the most common request was for 10,000 to 50,000 square feet of industrial space and 10 to 50 acres of land. Develop Indy is the city's quasi-government economic development organization.

Greenfield preferences

Not many manufacturers are scouting locations in central cities—at least not yet.

Consultants who help manufacturers find sites for plants say the companies overwhelmingly prefer greenfield locations with plenty of qualified workers within a 45-minute drive—deemed the maximum before tardiness and absenteeism balloon.

Jay Garner, owner of Garner Economics, an Atlanta-based consulting firm that has worked in Columbus, among other places in Indiana, said companies also want expanses where they can set up sophisticated assembly lines from a clean sheet of paper and offer room for expansion. And they need quick access to good highways.

"In older, more mature cities with geographic boundaries, that footprint has been built out," Garner said.

Another site consultant, Didi Caldwell of Global Location Strategies in Greenville, S.C., agreed that most manufacturers want to start fresh.

But Caldwell added that the topic of scarce labor is cropping up more often. She was surprised at a conference she attended recently when a speaker said manufacturers will need to reconsider cities because of the migration from rural areas and small cities.

In the first decade of the 21st century, half of the 231,137 net increase in the state's population occurred in the Indianapolis-Carmel metro area, according to the Indiana Business Research Center in Indiana University's Kelley School of Business.

In-migration will cause the metro area's share of total state population to swell from 27.1 percent in 2010 to 32.8 percent in 2050, the IBRC projects.

However, many manufacturers want large tracts, not the piecemeal properties typically available in city centers that are often polluted or occupied by obsolete structures.

"If they have to be in cities, I don't know what we're going to do," Caldwell said.

Thriving in a city

Major Tool is a poster child for how the city hopes revitalized properties thrive.

The company employs 327 workers making parts and assemblies for aerospace, defense, power generation, nuclear plants and national laboratories—rocket-motor components to nuclear reactor refueling hardware.

Fewer than 20 percent of the employees live in Center Township, Major Tool's home base; nearly all the rest live in Marion County, Manship said.

Major Tool would have space to add buildings to the five it has should it sign more long-term contracts, he said. The company over the years has absorbed adjoining properties used by a waxed-paper maker and two auto-parts plants as they went out of business, accumulating about 27 acres—half of it under roof.

The company also has learned to deal with congestion by scheduling movement of materials and completed projects when traffic is thin.

However, shipping and scarcity of land pale in comparison to concerns about finding the right people, he said.

"The biggest challenge is, you absolutely must have skilled labor," Manship said. "No matter where you operate from, skilled labor is the much bigger challenge."

Like software firms

Counterintuitive as it might sound at a time many manufacturers continue to prospect outside cities, the notion of manufacturers moving back to urban areas is anything but crazy, said Mark Muro, senior fellow and policy director of the Metropolitan Policy Program at Brookings Institution, a Washington, D.C.-based think tank.

Indianapolis may never again land an assembly plant like the sprawling operations run by General Motors, Honda, Subaru and Toyota elsewhere in the state.

But Indianapolis could take advantage of the merging of technology and manufacturing, Muro said. The center city could become home to nimble shops melding designers, engineers, software programmers and shop-floor workers to develop prototypes or turn out small batches of products.

Manufacturers, after all, increasingly operate like software firms, and useful combinations of technologically sophisticated white-collar and blue-collar workers seldom cluster in smaller locales.

"These are quintessentially urban activities," Muro said. "Manufacturing is going to become an interactive, small-team activity."

Luring manufacturers back to cities isn't as improbable as it sounds, agreed Drew Klacik, senior policy analyst at the Indiana University Public Policy Institute.

Manufacturers operating in cities have advantages competitors in rural areas or small cities can't match, Klacik said. Contrary to stereotypes, many of the skilled workers needed by advanced manufacturers want bike trails, concerts, walkable neighborhoods—the same amenities sought by their white-collar counterparts.

Indianapolis is well positioned to attract small advanced manufacturers, Klacik said. And the city could do well pitching to manufacturers that might not be highly technical but that require a lot of hand work.

Back to roots

Local commercial real estate broker Abbe Hohmann said the notion of a not-for-profit reuse organization like the one being created by the city and Indy Chamber makes sense.

If Indianapolis doesn't act, Louisville; Nashville, Tennessee; and Columbus, Ohio—places that compete with Indianapolis for offering fast access to most of the nation's population—will, she said.

Indianapolis has a big advantage over many cities in its ready supply of technical graduates from such colleges as Indiana and Purdue universities, and Rose-Hulman Institute of Technology. The city also can draw skilled trade workers from Ivy Tech Community College, Hohmann said: "It makes sense because that's our heritage."•