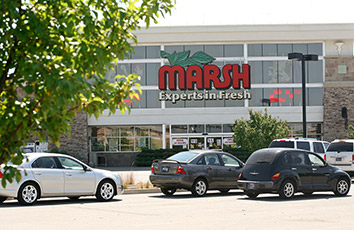 Marsh Supermarkets Inc. plans to close four stores in Indiana, including three in the Indianapolis area, the locally based grocery chain announced Thursday.
Marsh said the closings would take place "within the next few weeks" to the Indianapolis store at 35. N. Lynhurst Dr.; the Fishers store at 7400 E. Fishers Station (Allisonville Road and 116th Street); the Mooresville store at 435 Town Center St. N.; and the Lafayette store at 3825 South St.
"After extensive review, it has been determined these stores do not meet our business requirements regarding sales or future growth potential going forward," Marsh said in a written statement. "While it is a difficult decision, the Marsh management team is committed to improving our operating results and strengthening the company's competitive position in the marketplace."
Marsh said employees in the stores would be "offered the opportunity to transfer to another location within the company."
The latest round of closures is the second for Marsh since the beginning of 2014. The grocery chain announced last January that it was closing eight stores, including five in the Indianapolis area.
Central Indiana grocery stores have faced growing competition in recent years from the arrival of numerous specialty stores such as Fresh Market, Fresh Thyme Farmers Market, Trader Joe's and Earth Fare, as well as the addition of several Wal-Mart Neighborhood Markets.
Those players joined an already competitive market between Kroger, Meijer, Marsh and SuperTarget.
Marsh, which has been owned by Boca Raton, Florida-based private investment firm Sun Capital Partners Inc. since 2006, operates about 78 grocery stores in Indiana and Ohio.
"This action is part of a longer plan we are implementing to position Marsh Supermarkets for the years ahead," Marsh said in Thursday's statement. "During the year ahead, we will continue to aggressively invest in our existing store base."
Please enable JavaScript to view this content.