A tract of land for sale at the northeast corner of Interstate 465 and Keystone Avenue has languished on the market for nearly four years despite its high visibility in one of the glitziest parts of the city.

So what's preventing a sale? Many in the real estate community point to a narrow strip of land that borders the property.

It's controlled by different owners than the larger site and essentially serves as a buffer. Anyone wanting to buy the 13-acre property would need to purchase the narrow strip to gain access—a highly unusual hang-up for any attempt at redevelopment.

What's ensued is an awkward impasse between owners of the neighboring properties. The roughly 4-foot-by-800-foot sliver south of Butler Toyota is owned by local developer PK Partners, and the 13 acres is owned by the Tyner family.
Boyd
"It's like a stalemate," said Darrin Boyd, an office broker with DTZ, which managed the nearby Precedent office park from about 2003 to 2007. "Nobody can move."

The narrow property is what's known in the real estate industry as a "spite strip," because of the desire to annoy someone by stopping access to another person's property.

PK Partners has controlled its strip for decades and likely established it to protect its interests in the area. The predecessor of PK Partners developed the Butler Toyota property and the building to the north that formerly housed Ruth's Chris Steak House.

Reller
The local developer is not actively shopping the tiny tract, real estate sources said, but seems at least to be fielding interest and holding out for the best offer.

"PK Partners is clearly in a position to hold up any transaction that requires the ability to get across that strip of land," said Ross Reller, director of land services at the local Colliers International office "They don't have to be reasonable."

It's unknown what PK Partners wants for the strip but it could be more than $1 million, real estate sources said. The 13-acre Tyner property originally listed for $5.9 million when it hit the market in May 2011.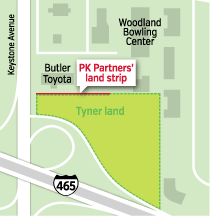 "Spite strips" typically aren't established by accident, Reller said, speculating that there may have been "bad blood" between the property owners.

What prompted PK Partners to establish the buffer is unknown. The company declined to comment on its holding, only confirming that it is the owner and that it's had discussions about selling it.

The larger piece is owned by the family of John Tyner, who died in 2012 at age 82. His family has had large land-holdings in the area for generations, including more than 19 acres only a few blocks east, at the northwest corner of East 96th Street and Randall Drive, that was acquired in late 2012 by an affiliate of Butler Automotive Group. It built a two-story, 37,500-square-foot Hyundai dealership there.

Michael P. Sloan, a broker with The Broadbent Group who facilitated Butler's purchase of the site, also is listing the 13 acres for the Tyner family bounding PK Partners' strip.

Sloan declined to comment on whether the PK property is preventing him from finding a buyer for the Tyner land. Real estate sources said the asking price for the Tyner property might be simply too steep to attract a buyer.

The land, however, is significant because it's the last remaining undeveloped tract in the Keystone at the Crossing trade area. Its high visibility might best suit a hotel, restaurant or other retail use, real estate experts said. But limited access to the site seems to be a barrier, Reller said.

Reller in recent years has shown the site to several hotel owners, he said, who all quickly passed on the property before even learning about the potential pitfalls that PK Properties' adjacent parcel might present.

"We never even got that far," Reller said.

With no direct access from Keystone Avenue, the only other option would be from East 96th Street and cutting through North Aronson Road that splits Butler Toyota and Butler Kia. To the east are Woodland Bowling Center and the Fastimes Indoor Karting center.

Anyone buying the Tyner property also would be prohibited from placing signage on Keystone Avenue or East 96th Street for marketing purposes, because city code now prevents signage unless it's on the same property as the building it's advertising.

"I just don't see the property having a lot of value unless you're a neighbor," Reller said.

Boyd at DTZ shared similar sentiments and wondered whether Precedent owner Chicago-based LaSalle Investment Management might have interest. The 21-building office park sits directly east of the Tyner land.

"If I owned the Precedent," Boyd said,"I'd want to control my flank."•