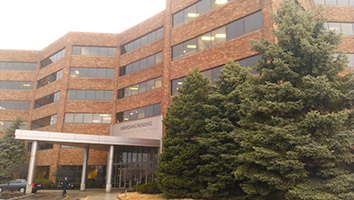 Instead of building new medical office buildings, cost-conscious Indianapolis-area hospital systems have the past few years opted for space in existing buildings.
That has helped buildings that lease a majority of their space to medical tenants boast a vacancy rate of 11.7 percent—about one-third lower than the citywide office vacancy rate, according to data from Indianapolis-based brokerage Summit Realty Group.
Meanwhile, increased employment of physicians by hospitals and increased competition for patients by such retailers as CVS and Walgreens have driven some physician offices away from class B facilities and spurred hospitals to open more retail-oriented locations.
The effects of Obamacare, combined with a long recession, have forced hospitals to find savings wherever they could—including on real estate.
A poster child for this trend is the Meridian Crossing office building at 116th and Meridian streets in Carmel, which sits directly across the street from the Indiana University Health North Hospital.
That hospital, opened in 2005, includes its own medical office building. But IU Health has not followed through on original plans that called for more medical office space on its campus. Instead, IU Health has leased more space at Meridian Crossing.
The building's owner, Indianapolis-based REI Investments, spent more than $2 million more than two years ago to bring the HVAC systems up to code for medical use and to add a covered drop-off area outside the front entrance.
While not a retail property, REI's office offers a similar convenience: ample parking at a high-traffic intersection.
REI's investments have paid off as the building welcomed doctors that are part of the Carmel operations of IU Health's Riley Hospital for Children and IU Health's office for its health program for business executives.
Those additions have pushed Meridian Crossing's occupancy from 72 percent before those renovations to 88 percent now.
"The market for office space has been not so great for a long time, and we don't really see that changing. But we thought, 'You know, this could be a good opportunity to get some of that medical office space,'" said REI President Mike Wells. "I'm still pretty optimistic that, with all the [physician] groups out there, we'll get a little bit more."
REI also benefited in 2011 when IU Health shelved plans to build a $60 million administrative office center near its Methodist Hospital downtown and instead purchased from REI an existing office building downtown.
Also in 2011, Franciscan St. Francis Health decided to rent instead of build when it made its first foray into the Carmel market. It now occupies 89,000 square feet at 12188 N. Meridian St., where it houses physician practices and a six-bed short-stay hospital.
In 2013, when Eskenazi Health opened a new hospital and office building to replace its aging facilities downtown, it also converted a former retail store on West 38th Street into a 70,000-square-foot center for primary and urgent care.
A recent counter-example to the trend is St. Vincent Health, which built a 96,000-square-foot addition to its Carmel hospital, for a price estimated to exceed $20 million.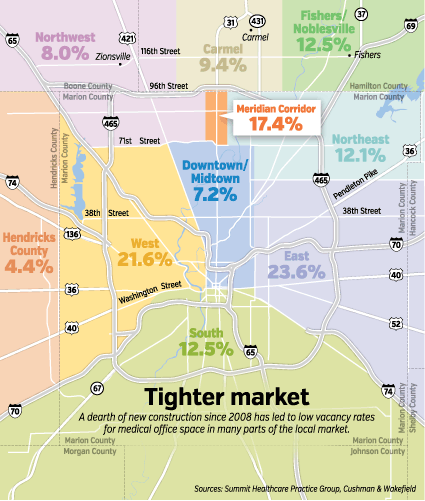 Still, the rarity of new construction has helped prop up even aging medical offices, noted Joe Lonnemann, a broker at NAI Meridian.
"Overall, we haven't seen a lot of spec buildings. That's helped not increase the supply," he said.
When Lonnemann was hired 14 months ago to lease space at 9302 N. Meridian St., he targeted medical tenants to boost the building's occupancy from 55 percent to more than 80 percent now.
He raised rents from $14.50 to $16.50, but pitched longer periods of free rent to new tenants and offered to pay for more of the improvements new tenants needed. He also played up the fact that physician practices that were paying rent for their medical filing area at their older office could take up less space in his building, since their records are electronic now.
"It all goes to the bottom line," he said.
B-class offices struggle
In general, medical offices on North Meridian Street that sit south of Interstate 465 have not fared so well as those near the hospital facilities a few miles north. Since 2010, medical office buildings between 86th Street and the interstate have seen their vacancy rates rise from 16.4 percent to 19.1 percent now, according to data compiled by Summit.
Meanwhile, all office buildings in that area have seen vacancies fall from 17 percent to 10 percent in the past five years.
Summit's report, the only of its kind to focus exclusively on medical office properties around Indianapolis, includes data from 295 buildings with more than 10 million square feet. Medical tenants pay a nearly 10-percent premium in rent, averaging $19.70 per square foot compared with an average of $18.07 among all office tenants.
Tim Norton, a partner in the health care practice group at Summit, expects several of the primarily medical offices in the North Meridian Corridor to continue to struggle.
Norton
That's largely because Indianapolis-area hospital systems now employ far more specialist physicians than they did before the 2008 financial meltdown froze real estate development. And the hospitals prefer to have those physician practices on their hospital campuses or nearby.
"They want to go near the campuses," Norton said. "Then the whole B market, it's not languishing and going to go away, but it's certainly suffering a little."
For example, the medical offices at 8801-8805 N. Meridian St. and at 9302 N. Meridian St. are 80-percent occupied, according to data posted on LoopNet.com, compared with many medical offices north of I-465 that are more than 90-percent or even 100-percent occupied.
The same trend has played out, he noted, among the older office buildings in the Eagle Highlands area along West 38th Street.
Medical tenants have shifted west over the past 10 years to be closer to the IU Health hospital campus in Avon. Its medical office building on that campus, for example, includes numerous medical tenants that are not owned by the IU Health system.
Vacancy among medical offices in western Marion County is 21.6 percent, according to Summit's research, whereas vacancy in Hendricks County is a paltry 4.4 percent.
New focus on retail
Office brokers do not expect much new office construction in coming years—at least not traditional medical office space.
Hospitals, instead, appear to be focused on expanding their presences in retail areas.
For example, IU Health announced in December it would build 12 new urgent-care centers around the city, saying it would put them in high-traffic areas.
Also, Community Health network announced in September it would build three more of its health pavilions on the east side.
Next year, Franciscan will open a downtown clinic inside a new YMCA location on South and Delaware streets, part of the CityWay retail development.

Rudolph
And, again, Eskenazi Health's primary care center on West 38th Street is in a retail area.
Hospitals are looking at retail locations more than ever because they are getting competition for patients from clinics in drug and grocery stores, as well as from independent providers of medical services such as imaging, physical therapy and dialysis, who have been locating in retail settings for nearly a decade.
Since patients prefer the convenience of retail locations, hospitals will have to follow suit, said R.J. Rudolph, a senior vice president at Summit Realty.
"You're going to see much more of that. You're going to have them competing more against CVS and Walgreens," he said. First-floor spaces at traditional medical offices that are well located can also work, but there's only so many of those spaces around, Rudolph noted.
But so long as there isn't much new medical office space built, existing properties will likely keep enjoying stable tenants and rents, REI's Wells said.
"Now those [older] properties are pretty stable, and they've got good medical tenants in there," he said. "With the health care situation we have today, and the greater availability of health care, I would think that new supply of customers would make those practices profitable."•
Please enable JavaScript to view this content.